The school board in Wake County, N.C. will vote today on a proposal to do away with the policy of assigning students to schools to achieve socioeconomic diversity. The district, which has 140,000 students, is the largest in America to consider family income in school placements.
Wake County parents unhappy with the school assignment policy elected a school board last fall with a majority of members who pledged to limit long bus rides for students and promote neighborhood schools.
A 2009 book by Gerald Grant, Hope and Despair in the American City: Why There are No Bad Schools in Raleigh, which was published before the anti-integration school board members were even elected, tells the story of how Raleigh and Wake County ended up with integrated schools in the first place.
In a new review of Grant's book, just published on the Ed Next website, Nathan Glazer wrestles with a key puzzle presented by the book: why have suburban parents in Wake County—and few other places—been happy to send their children to inner-city schools with near majorities or majorities of black children?
Is it great schools that have kept parents of all races happy (up to now)? Were the schools really working for everyone?  An article in the New York Times this weekend noted that, while students in Wake County outperform state and national averages, significant achievement gaps remain; 87 percent of white elementary school students perform at our above grade level, but only 48 percent of Hispanic students and 46 percent of black students do so.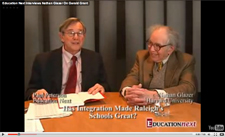 In an EdNext video, Paul Peterson and Nathan Glazer discuss Raleigh's experiences with integration and Gerald Grant's fascinating book.
And in an EdNext podcast recorded just after the new school board was elected in Wake County last fall, "Voters Choose Neighborhood Schools Over Socioeconomic Diversity," Paul Peterson and Chester Finn discussed the election and what it would mean for the county's school assignment policies.