Sponsors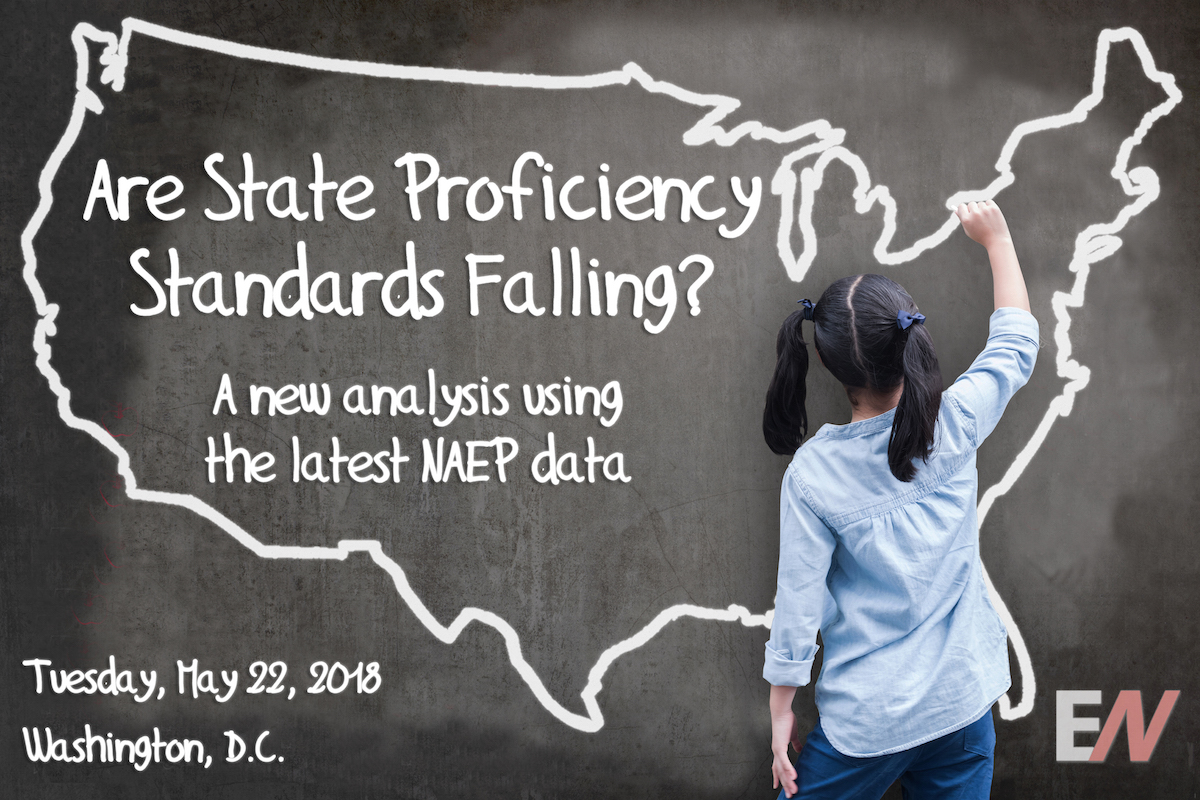 Are State Proficiency Standards Falling?
A new analysis using the latest NAEP data
Tuesday, May 22, 2018 | 12:00 to 1:30 p.m.
Hoover Institution, The Johnson Center | 1399 New York Ave NW, Suite 500, Washington, DC 20005
Since 2005, Education Next has evaluated the rigor of state proficiency standards, assigning grades to all the states on an A-to-F scale. Good grades suggest that states are setting a high proficiency bar—that students must perform at a high level to be deemed proficient in a given subject at their grade level. In the last analysis using 2015 data, Education Next found a dramatic rise in state standards. But what has happened since the passage of the Every Student Succeeds Act in 2015? Have state standards begun to fall?
Join us on May 22 in Washington, D.C., for a release-day event exploring the latest findings. Follow the discussion on Twitter at #EdNextStandards.
11:45 AM: Lunch available
12:00 PM: Welcome and presentation of results
•  Paul E. Peterson, Henry Lee Shattuck Professor of Government, Harvard University; Senior Fellow, Hoover Institution
12:20 PM: Panel discussion
Moderator: Martin West, Associate Professor, Harvard Graduate School of Education; Editor-in-Chief, Education Next
•  Catherine Brown, Vice President, Education Policy, Center for American Progress
•  Candice McQueen, Commissioner of Education, Tennessee
•  Paul E. Peterson, Henry Lee Shattuck Professor of Government, Harvard University; Senior Fellow, Hoover Institution
•  Robert Pondiscio, Senior Fellow and Vice President for External Affairs, Thomas B. Fordham Institute
1:30 PM: Adjourn
---
Moderator
Martin R. West
Martin West is associate professor of education at the Harvard Graduate School of Education and a faculty research fellow at the National Bureau of Economic Research. He is also deputy director of Harvard's Program on Education Policy and Governance and editor-in-chief of Education Next, a journal of opinion and research. He received his Ph.D. in Government and Social Policy from Harvard University and his M.Phil in Economic and Social History from Oxford University. In 2013-14, West worked as senior education policy advisor to the ranking member of the U.S. Senate Committee on Health, Education, Labor, and Pensions.
@ProfMartyWest
Panelists
Paul E. Peterson
Paul Peterson is the Henry Lee Shattuck Professor of Government in the Department of Government at Harvard University. He directs the Harvard Program on Education Policy and Governance, is Senior Fellow at the Hoover Institution at Stanford University, and is senior editor of Education Next, a journal of opinion and research. He received his Ph.D. in political science from the University of Chicago. A member of the American Academy of Arts and Sciences and the National Academy of Education, he is an author or editor of over 30 books, four of which have been identified as the best work in its field by the American Political Science Association.
@Paul_E_Peterson
Catherine Brown
Catherine Brown is the vice president of Education Policy at American Progress. Previously, Brown served as the vice president of policy at Teach for America and as a senior consultant for Leadership for Educational Equity. Prior to her role at Teach for America, Brown served as senior education policy adviser for the House Committee on Education and Labor, where she advised Chairman George Miller (D-CA). In 2008, Brown served as the domestic policy adviser for presidential candidate Hillary Clinton. Earlier in her career, Brown directed Teach for America's Early Childhood Initiative and served as a legislative assistant for both then-Sen. Hillary Clinton (D-NY) and Rep. Jim Langevin (D-RI), as well as a research assistant at Mathematica Policy Research in New Jersey. Brown received her bachelor's degree from Smith College and holds a master's in public policy from the Kennedy School of Government at Harvard University. Brown serves on the board of Urban Adventure Squad.
@Catbrown66
Candice McQueen
Dr. Candice McQueen was sworn in as Tennessee's commissioner of education in January 2015. McQueen led a statewide effort to create a new, bold strategic plan and vision for schools called Tennessee Succeeds focused on increasing postsecondary and career readiness for all of Tennessee's 1 million students. This plan serves as the foundation of the state's recently approved ESSA plan. Under McQueen's leadership, Tennessee recently announced the state's highest graduation rate in its history at 89.1%, best overall ACT at 20.1 – a number that represents all public school students in the state, across the board improvements in the 2nd year of the new state assessment, and a record high number of students taking and attaining credit for early college coursework. Tennessee has also refocused and reinvested in literacy with a statewide Read to be Ready campaign, new standards with comprehensive guidance and training on teaching reading, a statewide coaching network for elementary reading teachers, and summer camps for students who are furthest behind with an investment of over $30 million. McQueen has been a classroom teacher, a university faculty member and department chair and most recently served as a dean of a college of education and senior vice president. She is on both boards of the Tennessee's higher education systems, is a commissioner for Education Commission of the States (ECS,) serves on the governing board for the Council for the Accreditation of Educator Preparation (CAEP), and is an invited member of Chiefs for Change.
@McQueenCandice
Robert Pondiscio
Robert Pondiscio is senior fellow and vice president for external affairs at the Thomas B. Fordham Institute. He is also a senior advisor to Democracy Prep Public Schools, a network of high-performing charter schools based in Harlem, New York. He writes and speaks extensively on education and education-reform issues, with an emphasis on literacy, curriculum, teaching, and urban education. After twenty years in journalism, including senior positions at TIME and BusinessWeek, Robert became a fifth-grade teacher at a struggling South Bronx public school in 2002. He subsequently served as vice president for the Core Knowledge Foundation. Robert's articles and op-ed columns on education have appeared in the Wall Street Journal, the Atlantic, the New York Daily News, Education Next, and many other publications. A frequent speaker and expert guest on education issues, he has appeared on the Fox News Channel, CNN, and elsewhere.
@rpondiscio