The end of the decade has inspired me to reflect on contemporary efforts at education reform in the U.S., and to suggest next steps. This blog entry, in which I investigate whether the U.S. has genuinely tried to reform its schools, is the second part of what will ultimately be a three-part series. The first installment, in which I examined the evidence that our education system is failing, can be read here.
The lack of fundamental change to our education system and the absence of significant gains in academic achievement are not for lack of genuine effort. There is a broad national consensus on the need to reform our schools, though not everyone agrees on the path to change. [1]
There has been a sustained school reform movement, often with creative ideas, for more than a quarter century.  This effort, both state and federal, has expended endless amounts of energy on new legislation and program implementation. Academic researchers have contributed literally thousands of ideas and research results. Program advocates of every hue and stripe have arisen and organized themselves, each with publications, websites, lobbyists, and on-the-ground activists. Philanthropic foundations have distributed billions of dollars in incentives for school reform. The number of school personnel has doubled over the past forty years. The answer is clear.  An effort has been made. Below are a few supporting details.
Added Money and Personnel Suggest Resources Not A Core Problem
Money.  The political system, whatever its other possible deficiencies, has seen fit to provide schools with money.  Graphic #4 below (the first 3 graphics appear in the first installment of my analysis) displays the century-long history of per pupil school funding in the United States.  For a hundred years there has been a sustained flow of additional money each year (on a per pupil basis) to America's schools.  It is difficult to say that the funding is sufficient.  Determining what is needed financially for schools to achieve a particular set of instructional goals is a remarkably complicated topic, too extensive and arcane to be treated here.  However, the overarching picture is that America has funded its schools well–indeed, better than any other major nation in the world.  The financial costs of supporting the day-to-day operation of a stagnant school system have doubled in the past forty years.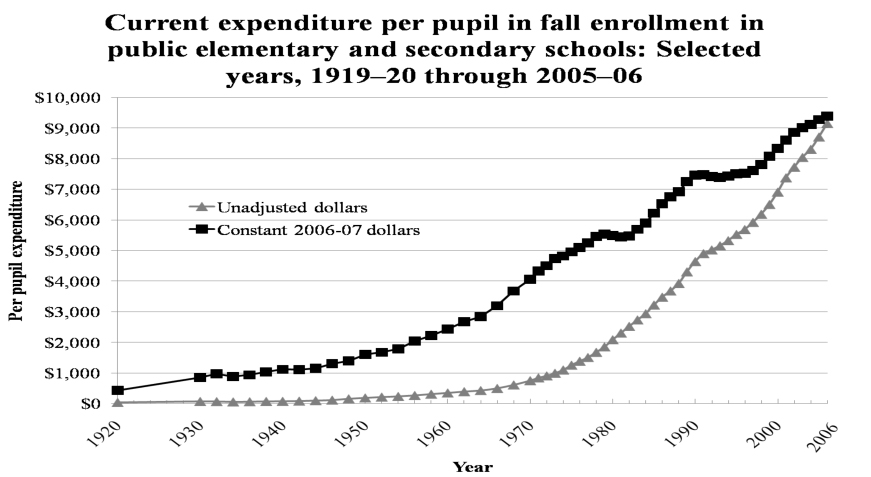 Personnel.  One might ask to what end the money has been put. The overwhelming answer is that it has been deployed to buy the time of people.
Graphic #5 below displays the steady improvement in the ratio of education professionals to pupils over the past quarter century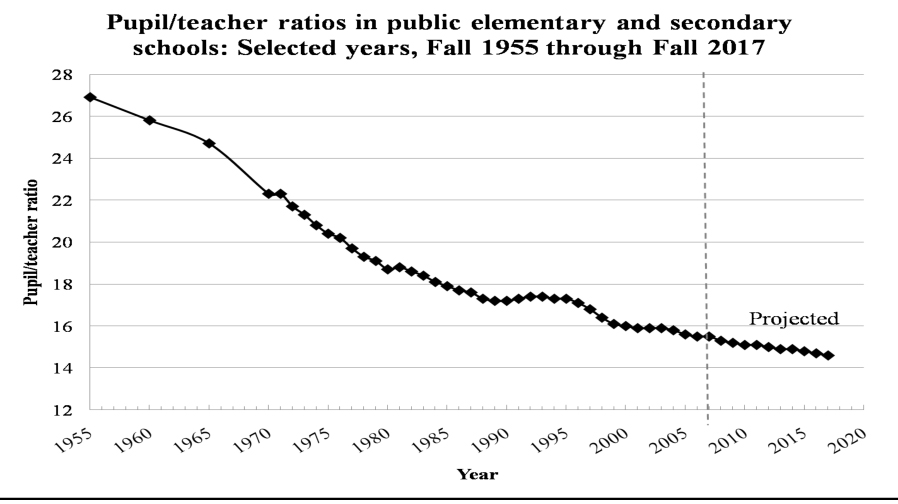 Nor Does Policy System Neglect Appear as a Core Problem
The past quarter century has seen cycle after cycle of policy system attention to school reform.  Education reform has been an incessant state and federal drumbeat.
A Nation at Risk. The American education system's loudest wakeup call in modern times was issued by the 1983 published report, A Nation at Risk.[2] Seldom has a blue ribbon report been more factually inaccurate, yet responsible for accomplishing so much good. The report's principal theme was the lax instructional standards and low levels of academic performance of American schools, which was leading students to fall behind the foreign competition.  No persuasive evidence was provided that schools were performing any worse than they had ever been. Shortly after the report's release, the vaunted economies of Japan, Germany, and France, nations to whom it was feared the United States would be imminently subjugated, began to wither. They have yet to recover.
Despite its factual inaccuracies and rhetorical hyperbole, A Nation at Risk served an important function.  It alerted the United States to the altered competitive world then dawning outside its borders and the need to remake the nation's education system to stay abreast of the forthcoming changes.  Moreover, the report bore reform fruit.
Immediately after its release, and following President Reagan's enthusiastic endorsement of its message, policymakers throughout the states leapt into action. Virtually any reform that could be implemented without facing significant political opposition was conceived and enacted.  Intensified high school graduation standards, higher college admission standards, fewer secondary school electives, better textbooks, more required math and science courses, more Advanced Placement courses, "No Pass No Play rules," and the re-invention of international tests for comparative purposes all came about.
The U.S Department of Education's Office of Educational Research and Improvement (OERI)[3] instituted a regular report labeled the "Wall Chart" that chronicled the progress of states toward higher academic standards. Education Week, the nation's most widely circulated K-12 education publication, annually printed special reform status reports on which states were given grades for their progress toward reform on dimensions such as instructional standards, accountability mechanisms, uses of technology, rigorous teacher training, and levels of school funding.
A Nation at Risk prompted the harvesting of low-hanging reform fruit.  It did not, however, foster careful re-examination of the education system.  Its changes were incremental and seldom directed at core issues of low performance objectives for students, lack of accurate measurement of progress, concern for historically underperforming minority students, and the absence of effective accountability for schools and systems that failed to perform well.
No Child Left Behind. These more fundamental conditions were left untouched until the enactment, in 2002, of No Child Left Behind Act (NCLB).[4] This federal government action was groundbreaking in that it altered the paradigm regarding school performance measurement.  The new criteria were outcomes, not inputs, the latter having been the ineffective coin of the accountability realm for much of the history of American education.  With NCLB, outcomes mattered; there could be consequences for persistently low performing schools.  Additionally, NCLB did not only require the measurement of student achievement, but, in a path-breaking manner, required additional metrics for conventionally underserved minority group students.
Plentiful Academic Attention, Research, Philanthropy, and Advocacy
Education reform has spawned a "Fifth Estate," a specialized industry comprised of academic researchers, publicists, media experts, evaluators and policy analysts, lobbyists, interest group advocates, and big-money profit-seeking corporations who have evolved to serve the education reform effort.
Academic Attention. A Google search reveals more than a half million articles and reports directed at contemporary education reform.  Other than the economy and combined facets of the war against terrorism, few other topics can match this volume.  This massive amount of writing occupies a spectrum of intellectual respectability ranging from pathbreaking reform ideas such as those put forth by Michael Smith and Jennifer O'Day[5] to abject junk science.  In between are literally hundreds of serious, empirically based studies, many funded by the Institute of Education Sciences, that offer experimental and quasi- experimental research results to steer serious school reformers.
Research and Philanthropy. The federal government's Institute of Education Sciences has funneled more than a billion dollars into seriously conceived education reform research studies since 2002 alone.  This amount has been matched by large philanthropic foundations such as Gates, Ford, Carnegie, Spencer, Wallace, Ball, and Rockefeller, and hundreds of smaller and more local foundations, who have invested in reform research studies and pilot projects.
Advocacy. Literally hundreds of advocacy groups, consulting firms, lobbying organizations, and think tanks now focus on education reform.  Some of these, organizations such as RAND, Mathematica, and the National Research Council, represent the finest of independent thought and rigorous analytic standards.  Others are but Potemkin Villages, holding companies established by self-serving and self-protective advocacy groups.  A cottage industry has evolved made up of for-profit and nonprofit companies established simply to undertake contract evaluations of education reform projects funded by the federal government.
With the exception of health and medicine, it is unlikely that any other public sector endeavor outflanks education reform as a center of gravity for research and advocacy action.
---
[1] Indeed, there is so little dissent from the view that reform is needed that those who defend the status quo are noteworthy.  Over the past quarter century, only two major apologists for the existing system have emerged, Arizona State Professor David Berliner and, now deceased, Phi Delta Kappan columnist, professional contrarian, and intellectual gadfly, Gerald Bracey.  See for example, The Manufactured Crisis, Carnegie Forum on Education and the Economy (1986).  Charles W. Fisher & David C. Berliner (Eds.) and Setting the Record Straight: Responses to Misconceptions About Public Education in America, Association for Supervision and Curriculum Development, Washington D.C., 1997.
[2] National Commission on Excellence in Education, "A Nation At Risk", U.S. Department of Education, 1983.
[3] Made a part of the Institute of Education Sciences (IES) by the 2002 Education Sciences Reform Act.
[4] The No Child Left Behind Act of 2001 (Pub.L. 107-110, 115 Stat. 1425, enacted January 8, 2002)
[5] Smith, Marshall S., and Jennifer O'Day. "Systemic School Reform." in The Politics of Curriculum and Testing: The 1990 Yearbook of the Politics of Education Association. Eds. Susan Fuhrman and Betty Malen. New York: Falmer Press, 1991
Last updated January 7, 2010