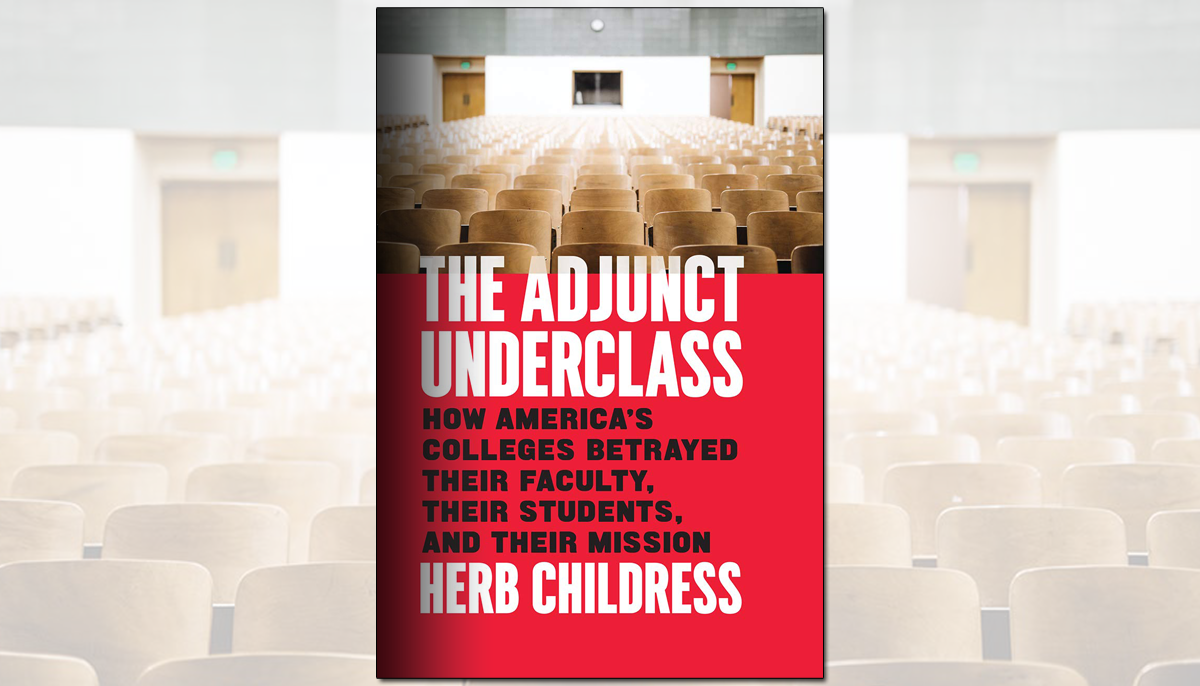 I'd like to thank Dr. Jenna Robinson for her review of The Adjunct Underclass. The ways that adjunct faculty are treated in America is truly a horrifying indictment of our educational values.
She rightly claims that the overproduction of PhDs for a tightly limited faculty job market is a core component of the problem. But the fundamental argument of the book is that this is an ecological problem that does not rest on any single variable. So, for instance, she believes that it is a mistake to lump graduate students, postdocs, limited-term instructors, and course-by course adjuncts together. And she's right to point out that they're paid differently. She also falls prey to the easy conflation of permanent faculty with "full-time" faculty. These are not the same thing, though it's clearly been in colleges' interest to claim so.
Those contingent communities (collectively the vast majority of the college teachers in America) share traits that negatively impact student life and faculty prospects. First, they have little or no academic freedom; their economic safety is largely reliant on their compliance to the wishes of their superiors. Second, they are easily replaced when institutional winds shift: new majors, new leadership, new funding sources. And third, they have far less connection to the ongoing life of the institution—the programs for academic engagement, health care, and social support that provide the context for student success.
Dr. Robinson also makes the argument that schools that merely prepare students for jobs are fulfilling their mission. We just disagree on this. My parents had one high school diploma between the two of them, and I shared with them the relatively meager aspiration that college could help a mechanically untalented boy have a good job. It wasn't until I went to the University of California that I learned what college could be… that I learned what I could be. Dr. Robinson seems to feel that my analyses of "social class" are a mythological force akin to sorcery, but one of the things that social class does is frame our aspirations. College has the opportunity to expand those aspirations, as it did for me. I'm not ready to deny that possibility to others.
She also brushes off the vast decline in per-student state funding in a half-sentence: "It's not clear where Childress would have the money come from, except perhaps from increased government subsidies." (emphasis mine). In my home state of Michigan, the state contribution to college operating budgets have declined to 15% from 60%; where I live now, in Vermont, the numbers are almost exactly the same. When I went to community college in California in the 1980s, I paid five dollars a credit. Our tax starvation of public higher ed is a choice we've made; it's a choice we could make differently.
I understand the desire to blame prospective faculty for entering a clearly risky job market, and I've tried to make it clear (both in this book and in my prior, The PhDictionary) just how risky that landscape is. But the arguments that Dr. Robinson have missed in my work are the ways that we have taken active measures to increase that risk, to make faculty life ever more unattainable by changing the structural facts of higher education. The search for a single causal variable does not do justice to the complexity of a problem that we've spent forty years creating.
Herb Childress is a partner at Teleidoscope Group, LLC, an ethnography-based consulting firm.

Last updated September 19, 2019