The 1,100 students at E. A. Olle Middle School in suburban Houston enjoy a relatively new facility, built in 1988 and renovated since, with grounds that include an athletic field and even an amateur radio station. Just a few miles away, their 330 peers at Houston's KIPP Academy, a public charter school, benefit from an even newer facility, built in 2001. But this is the sixth location that KIPP (the "Knowledge Is Power Program") has occupied since 1996. Between 1996 and mid-2001, KIPP's itinerant band of students in grades 5 through 9 had to travel to borrowed or leased space in various venues, including an office complex and the campus of a local university.
Moreover, while the construction of E. A. Olle was managed by the Houston school district and financed with a mixture of state and local funds, the educators at KIPP had to scrape together funding (from foundations, individual donors, community banks, and other sources during an 18-month capital campaign) to build a permanent facility for their students. Not only were they responsible for their students' learning; they also had to gain expertise in real-estate development.
This tale of two schools illustrates a fundamental challenge faced by the charter school movement. Charter schools are publicly funded, yet privately managed under the terms of a charter with a governing body, whether it be the state, a local authorizing board, a local school district, or a university. Even though charter schools are public schools, and often serve the neediest children in a given area, they rarely receive adequate funding for facilities (see Figure 1). This means that they must use part of their operating funds to lease space-often leaving just 80 percent of their resources available to support instruction. Moreover, charter schools' per-student allocation is typically less than district schools receive for their ongoing instructional and administrative expenses. Consequently, most charter school operators are forced to pay for facilities costs out of an already slim operating budget.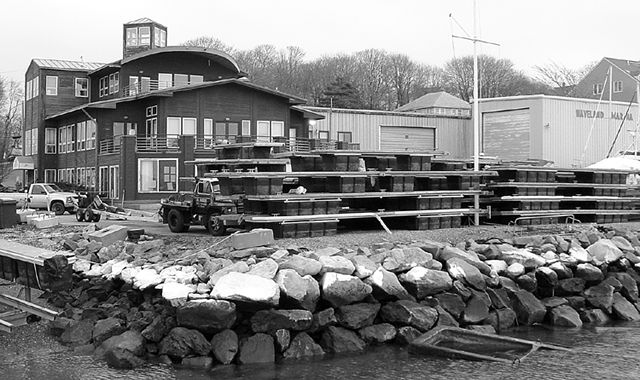 Charter schools must often use part of their operating funds to lease space. As the pictures accompanying this essay reveal, financial constraints can lead to a wide variety in the style and quality of charter-school facilities.
---
According to the Center for Education Reform, as of January 2003 there were nearly 2,700 charter schools serving more than 684,000 students in 36 states and the District of Columbia, just a decade after the first charter opened its doors. However, the troubles charter operators face as they struggle to find and finance adequate facilities threaten to retard this growth. Moreover, at the individual school level, instruction can suffer as crucial resources are diverted to solving the real-estate problem.
This situation endangers the basic accountability equation that served as the rationale for creating charter schools in the first place. Under the terms of their charter, which is typically up for renewal every five years, charter schools are expected to deliver improved academic results in return for freedom from many state and local mandates. However, the lack of facilities financing leaves them competing with traditional public schools on an uneven playing field. The principal of a traditional public school is not charged with coaxing capital funds out of voters, scoping out real estate, or overseeing construction. By contrast, charter school leaders often spend significant time trying to secure loans or donations to cover facilities costs as well as managing any construction or renovation.
A number of states and private foundations are working to address this inequity. Their innovative solutions, profiled below, have the potential to provide charter school students with the productive learning environments they deserve.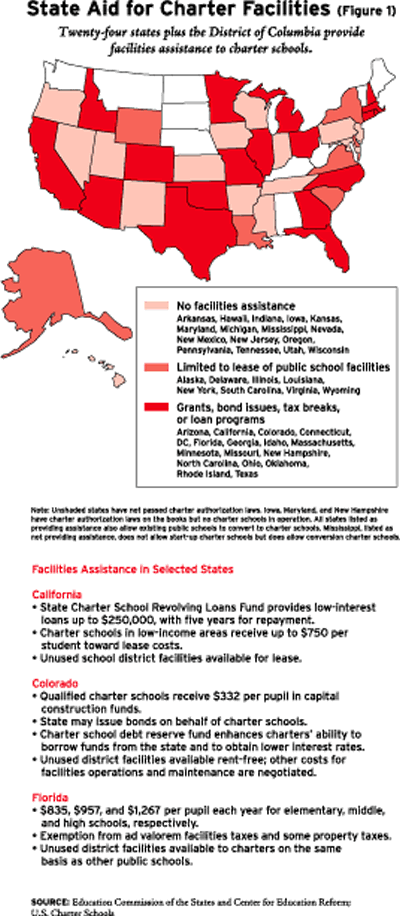 Improving Access to Capital
To a lender, loaning money to a charter school can look risky, since most charter schools are approved for only a five-year term, can suffer delays in their cash flow due to the quirks of state finance systems, and typically have a limited or nonexistent credit history. Even the small number of mature charter schools that seek to float bonds in order to finance their facilities carry low bond ratings relative to traditional public schools (see Figure 2). This all translates into high interest rates that leave the majority of charter schools-especially individual schools in low-income areas-out of luck. As a result, most charter schools lease their facilities rather than purchase or build their own (see Figure 3). This is encouraged by state policies that frequently provide lease aid rather than capital funding.
One solution being tried by a range of institutions from the federal government to local community development organizations is to make charter schools look more attractive to lenders by promising to repay the loan should the school default. This is similar to the approach followed in higher education, where federal guarantees ensure that students have access to low-interest loans.
Traditionally, the U.S. Department of Education has steered clear of broad school construction efforts (with the exception of one-time appropriations like the $1.2 billion infusion approved in 2000 for school building renovations and emergency repairs). However, Congress has authorized funding to "test and demonstrate strategies for helping charter schools with varying degrees of creditworthiness gain access to financing for facilities." About $50 million was appropriated in 2001 and 2003, with up to $75 million more waiting to be approved by Congress for the next fiscal year. For example, NCB Development Corporation used its $6.4 million grant to create the Charter School Capital Access Program; the grant dollars comprise a "first loss reserve"-money that serves as a buffer for lenders in case payments fall through-on a $45 million loan pool that NCB and the Reinvestment Fund raised from large financial institutions.
Charter schools are also using state and federal programs that provide loan guarantees for "community facilities." For instance, charter schools in rural areas are eligible for loan guarantees under a U.S. Department of Agriculture program. On a local level, some districts have even extended loan guarantees to charter schools. Chicago Public Schools recently guaranteed $4.5 million of a $5.5 million letter of credit for Perspectives Charter School, a charter school serving a diverse, low-income population in grades 6-12 in downtown Chicago. With that help and the backing of local foundations, Perspectives was able to negotiate favorable terms for a new, permanent 30,000 square-foot building (on a lot leased from Chicago Public Schools, which no longer needed the space).
Nevertheless, even with the help of loan guarantees, lenders are still reluctant to do business with any but the most sophisticated of charter school operators. This is where federal tax incentives may help. For instance, the $15 billion New Markets Tax Credits initiative provides lenders with credits against their federal income taxes in return for investing in businesses that serve low-income communities. One of the 2003 allocations went to Self-Help Ventures Fund in Durham, North Carolina, which will use its $75 million allotment to originate loans for commercial and community facilities, including charter schools.
At the state level, Colorado and Michigan now allow bond authorities to issue tax-exempt bonds on behalf of charter schools. States and philanthropists have also been working to increase the available pool of debt by creating "revolving" pools of loan capital. They are "revolving" in the sense that the loans are designed to be repaid quickly, when longer-term debt becomes available as the charter school develops a track record. Perhaps the best-known example is the Illinois Facilities Fund, which Chicago Public Schools seeded with $2 million in 1997 to make low-cost loans to charter schools. Since Illinois passed its charter school law in 1996, Chicago's public school district officials have viewed charters as another path to district improvement, especially for its high schools, and even went so far as to support an increase on the city's charter cap from 15 to 30. The district's relatively small charter office (four full-time employees) relies heavily on its ability to leverage the rest of the district's resources, which may account for the charter office's close relationship with other reform initiatives.
Providing cheap financing to charter schools is also a relatively easy way for philanthropies to get involved. Nationwide, foundations hold about $475 billion in their endowments, but use just $225.6 million of that for charitable loans or program-related investments, according to the Foundation Center. Committing even a small fraction of the remaining endowments to easing charter schools' access to capital would make a huge difference to the charter school movement; what's more, these loans will be repaid over time, allowing foundations to "recycle" the capital.
The David and Lucile Packard Foundation's Affordable Buildings for Children's Development (ABCD) initiative is a useful model. ABCD is a loan pool, funded by Packard and others, to be used in building preschool facilities. Charter schools could benefit from a similar structure, and in fact represent less risky investments than preschools, since they are funded by the state rather than by individual families.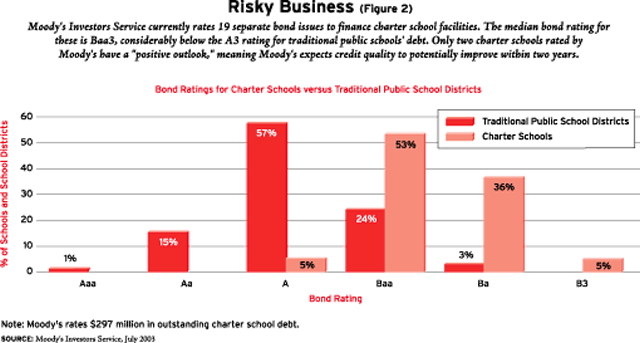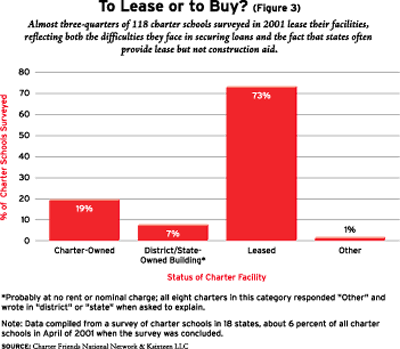 Public Resources for Public Schools
Loan guarantees and access to low-cost financing are welcome reforms, but they fail to solve the fundamental problem. Even making the payments on a low-interest loan is a heavy burden for many charter schools-a burden that detracts from their ability to offer a high-quality education.
As public schools, charter schools deserve access to the public resources that traditional public schools make use of, including tax revenues, state bond proceeds, and existing educational facilities. Among the states, Minnesota (home of the nation's first charter law), Florida, and California allocate some financial assistance for lease payments to charter schools on a per-pupil basis, similar to the way in which operating funds are distributed. Making state bond funds available to charter schools is an uphill battle, but California recently allocated to charter schools $100 million of an $11.4 billion bond package for K-12 education facilities. However, this represents less than 1 percent of the bond package, when charter schools account for 4.5 percent of California's public schools and serve about 2.5 percent of the state's K-12 public school students.
States are also requiring school districts to make more creative use of their facilities to accommodate the growth of charter schools. In California, districts must provide charter schools in their area with facilities that are "contiguous, furnished, and equipped" and "reasonably equivalent" to those of the public schools run by the district-and can charge charter schools rent for that space. In New York, both the state and districts must release a list of vacant or unused public buildings for charter schools to pursue.
In the coming years, federal policy may compel more of this activity. The No Child Left Behind Act requires that students in schools that fail to make "adequate yearly progress" for two years in a row be given the opportunity to transfer to another public school. Consequently, districts may be more willing to provide space to promising charter school operators who can provide a high-quality option for these students.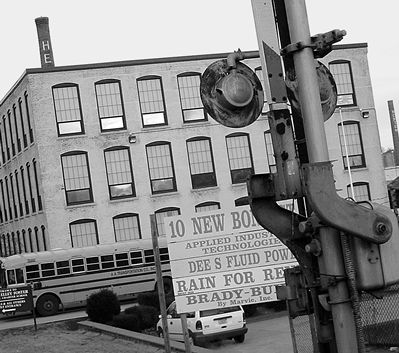 Exiting the Facilities Business
A more comprehensive approach would take charter schools out of the facilities business altogether. After all, real-estate development is not, and should not be, the core competency of charter school leaders.
One potential solution is to establish the nonprofit equivalent of private-sector real-estate investment trusts, or REITs. REITs take a pool of investment capital and use it to develop and manage a group of commercial and residential properties. The nonprofit analogue, which Paul Hill of the University of Washington has proposed as a solution to the facilities challenges of all public schools, would aggregate financing for charter school facilities and develop sites for a "portfolio" of schools. Thus it would spread the cost of an expert team of developers over many more facility deals and could afford to hire people with financing expertise, construction management skills, contractor relationships, and experience in legal and government approvals.
By serving an entire region or market's group of charter schools, the real-estate trust would look familiar to state officials and to lenders: a single entity that grasps the intricacies of real-estate finances and serves the individual needs of multiple schools, as school districts do. As a result, it would provide an easy means by which foundations could accelerate the scaling up of the charter school movement. It would also give states an efficient way to support the facilities needs of many charter schools at once, instead of on a school-by-school basis.
In addition, by serving multiple charter schools, a trust wouldn't be crippled by the closure of a single charter school. In fact, it would operate with a ready pipeline of potential tenants who would be eager to step into vacant space. This lowered risk would entice more private-sector lenders, reducing the cost of ownership.
Waiting lists alone indicate that there is a demand for 900 more charter schools, and that doesn't even account for the fact that charters now serve relatively few areas. But until we provide charter school operators with equivalent facilities funding, we can't tap into this potential source of seats for students stuffed into overcrowded schools. Nor can we properly assess the movement's real potential for improving student outcomes.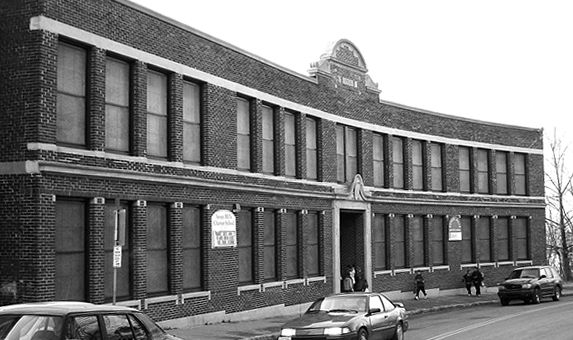 –Kim Smith and James Willcox are CEO and principal, respectively, at NewSchools Venture Fund, where Julie Landry is communications manager.
Last updated July 6, 2006