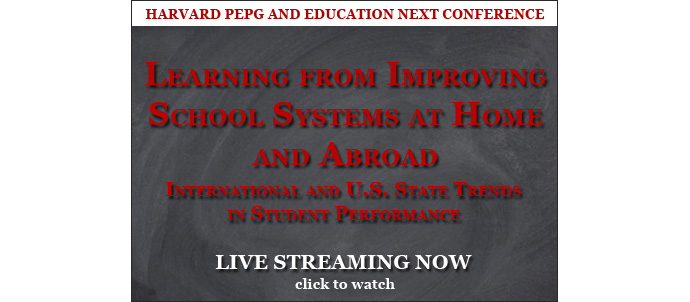 CLICK TO GO TO LIVE STREAMING VIDEO
The Harvard Program on Education Policy and Governance (PEPG) and Education Next are hosting a conference today and tomorrow at the Harvard Kennedy School. The topic is Learning from Improving School Systems at Home and Abroad: International and U.S. State Trends in Student Performance. The conference will be live streaming at the following times:
Thursday, July 26th — 9:00AM – 7:00PM
Friday, July 27th — 9:00AM –  12:00PM
See agenda for schedule and break information
A research paper will be presented at this conference that identifies the countries and states which have shown the greatest improvement in test performance in recent years. Several scholars will present additional papers that identify factors which cause or are correlated with system improvement either within the United States or internationally, and we will have practitioners join us from many of the most improved places to speak to their state's or countries' experiences.
Keynote addresses will be delivered by Governor Scott Walker of Wisconsin and Maureen McLaughlin, Senior Advisor to the Secretary and Director of International Affairs, U.S. Department of Education.
You can find the speakers and discussions scheduled here.
To follow the conference on Twitter use the hashtag #EdNextConf.
You can find more information on the conference here.
Presentations are available for download here.