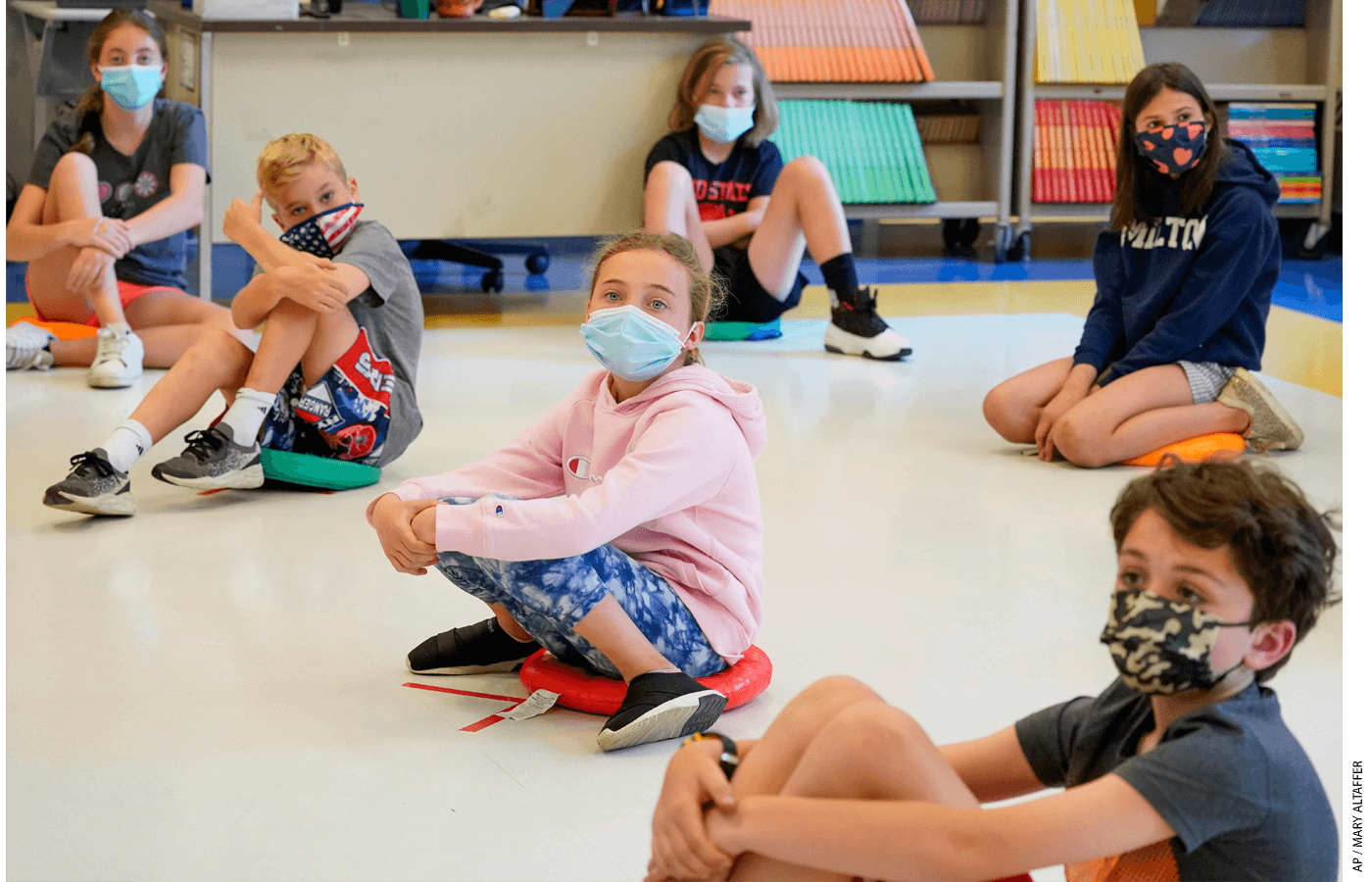 When the Omicron variant of the coronavirus cropped up in the United States in the waning weeks of 2021, public officials warned that it was the most infectious variant they had seen to date. By early January 2022, Omicron had become the dominant form of the virus in this country. And now, not surprisingly, the BA.2 subvariant of Omicron is causing another uptick in Covid cases.
At the same time, evidence was mounting that Omicron was less deadly than previous variants. Risk of hospitalization, for instance, is about 50 percent lower than it was with Delta, and studies indicate that Omicron does less damage to the lungs. Unfortunately, some people heard this news and latched on to a narrative that Covid was on a downward trajectory.
"There's this story that we're going to have variants that are progressively less severe," Dr. Roby Bhattacharyya, an infectious disease specialist at Harvard Medical School and Massachusetts General Hospital, told NPR in January. "It's comforting to think there might be some tendency for SARS-CoV-2 to evolve toward a milder form. That's not what we're seeing here."
Dr. Bhattacharyya was articulating a common human foible—confirmation bias—the tendency to find support for beliefs that you want or need to believe, even if the evidence says you're wrong. The fact is, no one knows for sure where Covid is going, whether it will end (or when), and whether future strains will be more or less severe.
So: Is now the time for schools to "go back to normal"? Can we safely drop some of the precautions we have put in place? No. Covid is still very much with us.
Here are some facts about Covid-19:
The United States leads the world in deaths from Covid-19. More Americans have died from this disease than in any war. In the Civil War, the deadliest in the nation's history, 498,332 people died over four years, from 1861 to 1865. Covid has killed nearly a million Americans in half that time.
While evidence shows that the Omicron variant is less deadly than the Delta strain that preceded it, Omicron spreads more easily and therefore infects more people. As of March 9, 2022, an average of 1,350 Americans were dying from Covid every day, according to data published by the Washington Post. At the peak of the Omicron surge on February 4, 2022, an average of 2,647 people were dying per day; this is close to the pandemic peak of 3,328 deaths per day on January 29, 2021, prior to widespread vaccination. The Omicron death toll is staggering, given that the great majority of deaths from this variant have occurred among unvaccinated individuals, who comprise only about 23 percent of the population. Although newly reported cases are down to about 37,000 per day, some local regions are still experiencing large surges.
Vaccination provides considerable protection from Covid and especially from contracting a serious case of the disease, but it does not eliminate the hazard, particularly for individuals with other risk factors. Even among vaccinated persons, Omicron remains easily transmitted in all social settings, including schools and homes, and the disease occurs in all age groups. The same will likely be true of any future strains of Covid-19.
The facts are stark, and the risk is great, yet children face serious risks to their learning and social development when they miss time in school. It is imperative that schools be open as much as possible, but keeping them open safely will require effective mitigation and public-awareness strategies for some time to come.
Transmission in Schools
Schools are the ideal environment for spreading Covid-19. Studies have shown children can catch and spread Covid-19 as easily as adults do. Children of all ages can carry high viral loads that they can pass on to their parents, teachers, and others.
Symptom monitoring is not an effective strategy for identifying infected children, because nearly 50 percent of children do not exhibit symptoms. Covid-19 is rarely lethal for children, yet during the peak of the Omicron surge, on January 7, 2022, CDC Director Rochelle Walensky announced that Omicron was causing more than 760 children to be hospitalized per day. The groups most affected were those under the age of 5, who are not eligible for vaccination, and children 5 to 11, of whom only 16 percent are fully vaccinated. Walensky said at the time that "pediatric hospitalizations are at the highest rate compared to any prior point in the pandemic."
The CDC reported that in May 2021 an unvaccinated California teacher transmitted the Delta variant to her elementary-school students, leading to 26 Covid cases among the students and their contacts. Before getting tested, the teacher had experienced symptoms for two days and had continued to work. During that time the teacher read aloud to her class without wearing a mask, despite the school's masking requirement. This instance illustrates that when schools are open without enforcing necessary precautions during a Covid surge, it is highly likely that teachers and children will play a role in transmitting the virus. It is therefore critical that we not let our guard down.
Everyone Should Know the Basics 
Students, parents, school staff, and anyone in the larger community who is connected to these individuals need to have basic information on Covid-19 transmission and how to reduce it through established procedures. Schools should provide multiple, mandatory information sessions for all the school's constituents, and basic information about Covid should be posted widely—in schools and throughout the community. Students, staff, and parents should be asked to sign a statement saying they understand and will abide by all the regulations.
Everyone must know how the virus is spread, which situations are the most dangerous, and how to avoid those situations. Covid-19 spreads through human-to-human contact, whether people are in the presence of each other or leave remnants of the virus by touching objects or having talked, eaten, or simply breathed in an area in which others congregate or pass.
For schools, the areas that pose risk include not only school facilities but also the homes of students and staff and anywhere in the community that these people go, including stores, banks, gas stations, cars, buses, bus stops, cafeterias, hallways, classrooms, lockers, gymnasiums, locker rooms, bathrooms, and more. As has long been recommended, everyone should wear a mask outside of a completely safe environment, wash hands frequently, and safely socially distance. People should be reminded that these are effective mitigation strategies, as are disinfecting and ventilating schools and homes.
Tie Precautions to Community Transmission Levels
Increasingly, schools have faced public pressure to remain open even during the worst surges and to drop mask requirements and other precautions. Schools can counter this pressure by strictly tying the extent of their precautions to the level of transmission in the community. Information on these conditions is regularly reported by the CDC on the county level, with this data accompanied by the agency's recommendations on which precautions schools should take at specific transmission levels. Linking precautions to the level of risk eliminates the guesswork for school officials and provides an objective rationale for the safeguards they put in place.
Given how fast cases surge when a new variant appears, we believe that even in low-transmission communities (labeled as "green" by the CDC) schools should continue to require masking for students and staff, use social distancing, and perform regular sanitizing of classrooms and other school surfaces. Although the most recent CDC recommendations do not require these precautions except in crowded classroom situations, we feel they should remain in place until there is a more reliable way to give advance warning of highly transmissible new variants. At higher levels of community transmission, the school should implement staggered schedules to reduce the number of students who are present at a time. In addition, schools should offer a full online option to all students whose families do not want to take the risks associated with their children attending class in person. This option will also reduce student density in school.
Finally, at the highest levels of transmission (referred to as "orange" or "red"), the school should switch to remote learning to protect students, staff, family members, and the community at large. For students for whom online learning is not an option, such as those who do not have access to reliable Internet connections, accommodations can safely be made at school, since plenty of classroom space will be available. And concomitant with these strategies, there must be adequate testing and availability of vaccinations to all children who are eligible.
Testing and Vaccination
We strongly recommend that federal, state, and local authorities provide the resources for schools to regularly test students at all levels of community transmission. Regular testing can help reduce transmission of the virus, even in environments as crowded as college dormitories, according to a study done at 18 Connecticut colleges and universities during the 2020–21 school year. Study authors Olivia Schultes and colleagues concluded that "twice-weekly Covid-19 testing of residential students may serve as an effective infection mitigation strategy at colleges and universities." These results suggest that in K–12 schools that remain open in times of higher community transmission, frequent testing of students and staff is critical, and, even under green conditions, regular testing is a must. As the test shortage during the Omicron surge has shown us, schools should plan to have on hand sufficient test kits to last several weeks. Although testing and other mitigation strategies can be costly, the federal government has provided funding for this purpose, as have some states and municipalities. Because the virus spreads so rapidly, a community can quickly go from conditions of minimal transmission to high levels; it is critical, therefore, that schools be proactive in securing funds for testing.
Schools should have plans for dealing with outbreaks. When someone in the school community does test positive for Covid-19, the individual should go into isolation for a minimum of five days and then be retested. Furthermore, schools should do contact tracing and encourage CDC-recommended testing and quarantine measures for those who were exposed to a Covid-positive person.
Of greatest importance is that schools work with their local and state health agencies to make vaccinations widely available to students and to educate students and parents about the facts regarding vaccination safety and efficacy. As experience during the Delta and Omicron surges has shown, vaccinations prevent severe illness and save lives, with an almost tenfold reduction in deaths and a similar or greater reduction in hospitalizations. As of March 10, 2022, according to the CDC, about 76.6 percent of the U.S. population had been fully vaccinated, although there remain communities with much lower rates, and eligible children continue to lag behind adults). Covid may always be with us, but the more we can increase immunity through vaccines, the less opportunity the virus will have to spread.
In Sum
In this essay we have outlined the steps that schools can take to minimize transmission and keep students and staff safe. School officials can turn to the CDC's website for specific information and advice on preventative measures, including how to educate the school community about Covid, how to implement mitigation procedures, safety practices for transportation to and from school, and recommended procedures for testing, quarantining, and tracing.
Ours is an extraordinary time—an era that demands that we educate ourselves about Covid and respect the facts. With unity of purpose, a commitment to clear communication, and proper precautions, we can protect students and teachers while providing the in-person learning that children need and deserve.
This article appeared in the Summer 2022 issue of Education Next. Suggested citation format:
Rouhanifard, P., Doron, S., Bossard, G., Rothman, D., and Bailey, J. (2022). Covid-19 Precautions in Schools. Education Next, 22(3), 64-73.