Note: This is part of a forum on Education Reform's Race Debate.
Revolutionaries in each generation must assess the state of their rebellion every 20 years or so. This was true for the generation that fought for freedom from British rule in the 1760s, a revolution that gave us a constitutional republic. And it is true for a different generation of revolutionaries—those who fought in the 1990s for freedom from bureaucratic rules, a revolution that gave us liberty-based school choice.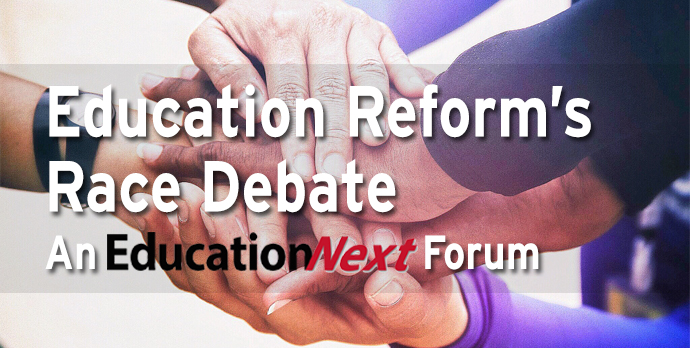 At the same time revolutionaries fight against tyrants, they also at times fight against each other. From its founding, the United States has fostered these sorts of family feuds—dissent among patriots united by common ideals about liberty and happiness but fighting over how to achieve them. That is the case in 2016, as education reformers struggle with the meaning of choice and opportunity two decades after founding the first charter schools and voucher programs.
Then as now, the challenge involves critical self-reflection to progress toward shared goals while allowing for disagreement. In 1787, as pamphleteers debated the value of a strong republic, Thomas Jefferson noted the importance of dissent and rebellion. "The tree of liberty," he wrote, "must be refreshed from time to time with the blood of patriots and tyrants."
Such thinking may be instructive for advocates looking to define the future of American school reform. If today's patriots are a big-tent group of conservatives and social justice warriors, Millenials and baby boomers, think tankers and classroom teachers, then our tyrants are devotees to hyper-partisanship, a one-size-fits-all philosophy, and a mindset that twists "equity" into opportunity for some, not all.
The First Reform Rebellion
The metaphorical "shot heard around the world" to start the American school reform occurred in Milwaukee, Wis., and Minneapolis/St. Paul, Minn. In Wisconsin, black city leaders and state representatives partnered with white nonprofit leaders and rural lawmakers to create the nation's first city-based voucher program, the Milwaukee Parental Choice Program, in 1990. The next year, Minnesota passed the nation's first charter school law, the culmination of years of grassroots efforts helped by non-traditional political alliances.
The goal of these school choice "patriots" was to free teachers to practice their craft in new and innovative ways, including by opening their own public or private schools, and to empower parents with greater choice and influence over their children's education. By contrast, the "tyrants" were bureaucracy and rules that constrained teacher creativity and student learning, and procedures that prevented parents from having a strong voice.
These initiatives served as models for similar programs throughout the country. Now, after reaching critical mass, the reform community is experiencing anxiety over their meaning. How united are we? Have the patriots become the tyrants or vice versa?
Tyrant 1: Party Over People
The school reform community is a bipartisan movement and has been since its origins. It is fundamentally powered by people, not party—including, in many cases, the assistance of non-governmental actors, such as philanthropists. The tyrant in this case is hyper-partisanship, whereby advocates split into factions defined by their political affiliation. The patriots are focused on supporting teachers and students across a variety of school structures; the tyrants are focused on those structures themselves, and use them as a party issue, not a people issue.
Tyrant No. 2: Identity Politics
Race was a part of the founding conversations for the charter and voucher movements. One in four state charter laws includes a desegregation clause, and some voucher programs, like Cleveland's, were begun to address what desegregation orders had not. Some reformers believe the inclusion of race as a mainstay topic takes us away from reform's original meaning. It does not.
However, race is not the sole reason charters and vouchers were created in the early 1990s—all students were part of the equation. And the use of race as a proxy by some reformers, to gauge the seriousness of other reformers' commitments to issues of social justice, is a relatively new phenomenon.
Including social justice in the school reform narrative adds an important dimension: class and an acknowledged history of inequality. But it must not become code for only helping black and Hispanic students, or only helping students enrolled in urban, rather than rural, schools. It must not replace what this movement was founded on: choice and opportunity for all. What about Native American students, poor white students, or Asian students who do not fit into the "model minority" category? The patriots in this analysis know that race matters, but it matters through the lens of choice and opportunity. The tyrant is in making social justice a "social just us" theme—as with many good ideas, it can become tyrannical if taken too far.
Whichever way we define the patriots and tyrants of school reform, let us not shirk our duty to fight over these ideas while honoring the common goals that bind our reform family. As Jefferson also said, Malo periculosam, libertatem quam quietam servitutem: "I prefer the tumult of liberty to the quiet of servitude."
Gerard Robinson is a resident fellow for Education Policy Studies at the American Enterprise Institute.