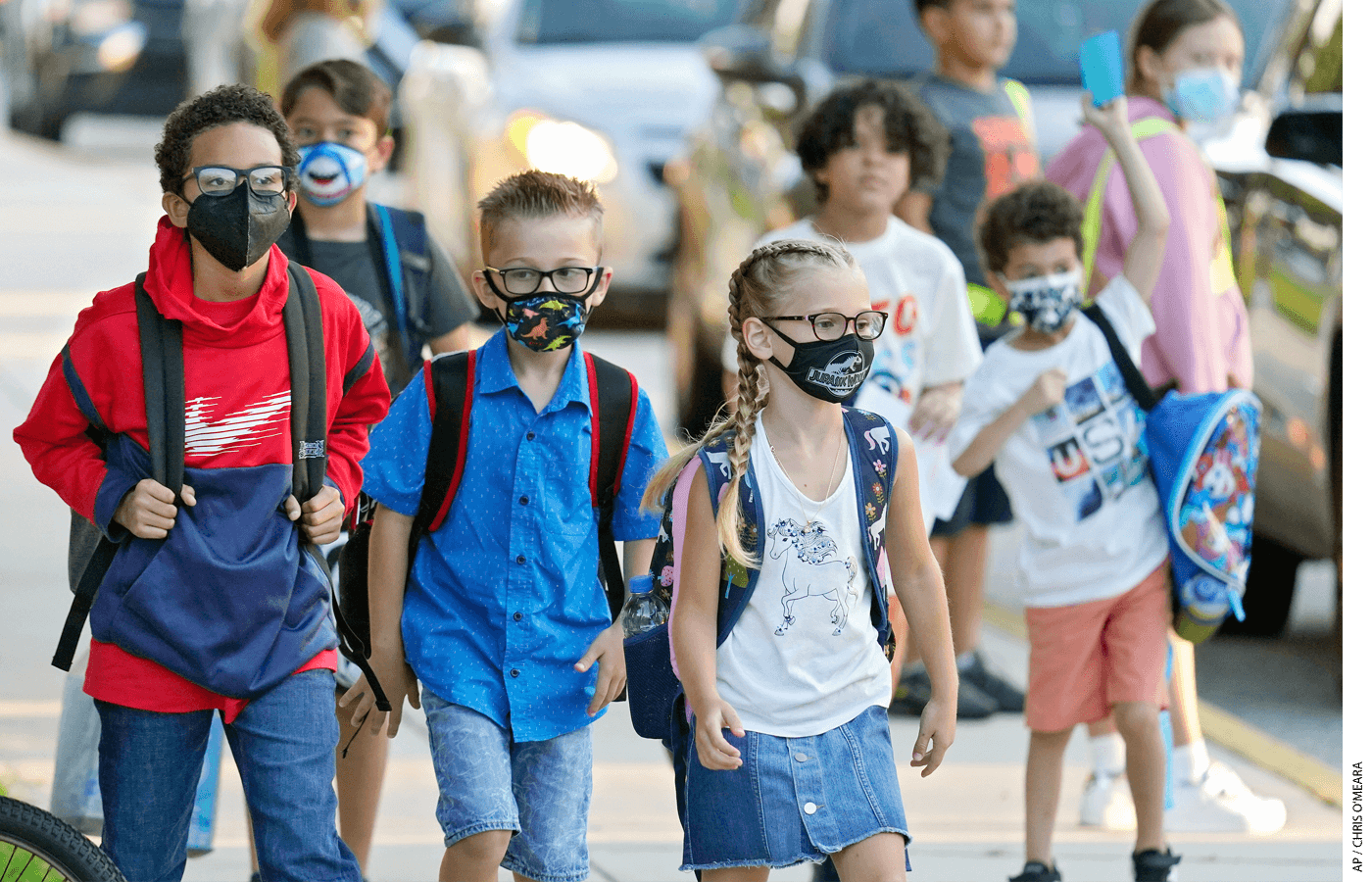 The rapidly receding Omicron wave of Covid-19 presents a moment to pause and reflect on our pandemic strategy and make needed and, in some cases, long overdue adjustments. This is also the time to prepare for future pandemic risks. As we move forward, it is important for policymakers and health authorities to review which measures have worked, which policies have fallen short, and which actions have produced too little public-health benefit relative to the costs they have imposed on families and, too often, on children.
The end of a wave may not necessarily be the end of a pandemic. Omicron was generally milder than other variants, but its transmissibility made it far deadlier than many assume. More than 150,000 deaths were reported during this surge, compared to 132,000 during the Delta wave, and four times as many children were hospitalized for Omicron than for Delta. The BA.2 subvariant is also disrupting school in the United Kingdom, with one in five schools reporting that 15 percent of their teachers were absent, and student absences tripled in less than two weeks to 202,000, trends which might foreshadow similar disruptions in the United States. One research study suggested that, during the Omicron surge, the effectiveness of Pfizer's vaccine against Covid infection in children ages 5–11 plummeted to 12 percent from 68 percent, and protection against hospitalization dropped to 48 percent from 100 percent during the same period. There remains a risk that a new variant could emerge that evades all or most of the vaccines' protections.
On the other hand, communities now have greater protection against severe disease as a result of immunity gained through infection or vaccinations. Vaccines have generally proven to be highly effective, particularly with boosters. For those who are hospitalized, new antiviral pills and therapeutic treatments help further reduce the risk of death. The nation's testing system, while far from where it needs to be, has vastly improved since even a few months ago. All of this has led to Covid becoming less deadly over time and quickly approaching the same fatality rate as the seasonal flu.
It is worth emphasizing that children continue to be at much lower risk than adults. An unvaccinated child is at less risk of contracting a serious case of Covid than a vaccinated 70-year-old. A March 2021 review of more than 130 studies showed that schools were not super-spreader settings and that it was possible to reopen schools in a way that protected both teachers and students. In July 2021, former CDC director Tom Frieden reviewed the scientific literature and concluded, "Evidence from around the world suggests that children spread Covid-19 less than adults; that children with Covid-19 are less likely than adults to become severely ill; and that in-person education has not meaningfully increased community transmission when schools have mitigation measures in place." No research has emerged that fundamentally alters this evaluation.
Children have thankfully been spared the worst of Covid, but our policy response still treats them as if they were most at risk. Schools were first to close and last to open, and now students, who were first to be masked, are the last to be unmasked. We face a very different set of risks moving forward than we did in the early weeks of the pandemic. Our strategies, particularly as they relate to schools, need to reflect this new reality.
Clearer Triggers
The waning Omicron surge provides the opportunity to reset the mitigation measures that have long been in place, including masking and quarantine policies. Two principles should guide the reintroduction of restrictions and protective measures.
First, mitigation practices should depend on community context. Masks may not be needed for children in a community with high vaccination rates and low case incidence, but they may be an important first line of defense in areas with low vaccination rates, high case incidence, and higher hospitalization rates. These decisions are best made locally. State mandates requiring or prohibiting mitigation measures too often rob communities of their agency and make it difficult for local entities to respond nimbly to changing conditions on the ground.
The CDC's recently updated method of determining county risk levels now considers hospitalization rates and the number of hospital beds being used, not just the number of new cases reported. This change is long overdue: as far back as July 2021, case numbers began to decouple from hospitalization rates and deaths. The model could be further strengthened by incorporating community vaccination rates to help assess the risk. British Columbia has done just that with an easy-to-understand chart that estimates the risk of hospitalization based on vaccination status, age, and other risk factors.
Second, the CDC and state health authorities must establish clear, simple-to-understand metrics that trigger the introduction of Covid-mitigation measures and, just as importantly, trigger the lifting of those measures. These metrics should automatically expire after a period of time, perhaps 30 days, to force authorities to evaluate the effectiveness of the measures, consider any new research that has emerged, and adjust strategies based on changing circumstances. This would allow extending mitigation measures but would force authorities to make the case for why the continuation is warranted.
Strengthen Community Preparedness
As experience with Omicron and Delta has taught us, Covid-19 variants can emerge suddenly and spread rapidly. Both waves caught schools off guard, with student learning disrupted by extended quarantines. A recent bipartisan poll found that children have missed an average of 21 days of school this academic year because of quarantines. Instead of receiving live, online instruction, many students found themselves sent home with paper packets.
There is no guarantee that we will not see another wave of the virus this year or that another more problematic variant will not appear. Leaders need to make the most of this time to bolster their preparations and ensure that schools aren't caught off guard again.
Consider the way coastal communities prepare for hurricanes. Before hurricane season, no one knows how many serious storms will occur, how intense they might be, or where they will make landfall. So, communities use layered preparedness measures that include strengthening building codes, developing plans for students who may miss school, and preparing mandatory evacuation plans should they be required.
Similarly, we have little ability to forecast Covid-19 waves and their intensity. Over the next few months, schools should shore up their defenses—by improving ventilation systems, for instance, and developing more robust Covid-testing plans to support test-to-stay programs. Leaders cannot estimate the number of students who will require isolation or quarantine, but they can prepare now to ensure that any students who do have to stay home are guaranteed to receive live, online instruction within 24 hours of leaving school. And perhaps most important, community leaders can work to increase student vaccination rates by encouraging parents to talk with their pediatricians.
Strengthening the Nation's Policy Response
Throughout the Covid-19 pandemic, our policy response has consistently been too slow in adapting to changing circumstances and emerging research. Two years into the pandemic, the federal government still cannot supply reliable counts of how many schools are open or how many students have been quarantined. Out of the 56,000 grants awarded by the National Institutes of Health in 2020, two were given to studies of the efficacy of masks and two were for studies of Covid transmission in schools. It took the U.S. Department of Education and U.S. Department of Transportation seven months to address regulatory issues related to the shortage of school-bus drivers. And CDC guidance still consistently lags behind emerging research on Covid-19, the risks the virus has presented for children, and the mitigation measures necessary to contain it.
There are three steps policymakers can take to strengthen our policy response. First, they can acknowledge that better data is the foundation for a better response and act accordingly. Policymakers should require schools to report positive cases, the number of students in quarantine or remote learning, and the mitigation measures in effect in the school. Such data will help better track future waves of the virus and will contribute to research into the efficacy of masks, social distancing, test-to-stay programs, and other protective measures. One reason there is such intense debate about the efficacy of masks in schools right now is that we have not collected the data needed to know how well masks worked in school settings. The financial burden of collecting and reporting this information is more than offset by the $280 billion in federal Covid funding that has already been allocated. Organizations such as Code for America and U.S. Digital Services can also help states build capacity through data-system improvements.
Second, our nation needs a better system to help leaders make sense of the growing body of research studies on Covid-19 and related mitigation strategies. Many studies have limitations in how their findings should be interpreted. Preprints are easily accessible, and they can be confusing or misleading without the appropriate context and interpretation, especially since people can usually find a handful of studies to back whatever position they already hold. We need better summarization of studies and the emerging picture they collectively paint. This could be accomplished through an interagency task force composed of researchers from the CDC, the National Institutes of Health, and the U.S. Department of Education.
Third, policymakers should make more Covid-related decisions through a deliberative policy process that can evaluate the tradeoffs of different courses of action. This is how government manages nearly every other policy issue, ranging from economic matters to foreign relations. Decisions are rarely left to a single agency but are debated among cabinet members who have different perspectives on evaluating the costs and benefits of various solutions. We need more of these debates, not just federally but also among state leaders, to help craft pandemic policy strategies that better weigh the public-health benefits against other social, economic, and educational costs.
The end of the Omicron surge is an opportunity. It presents us with a chance to reevaluate our pandemic-response strategies and prepare for the future. And it offers the opportunity to return to some degree of normalcy. Beyond all else, the moment challenges us with renewed urgency to commit to building a system that serves all students with their academic recovery. How will our leaders rise to the challenge of the moment? Students are counting on us, and we must not fail them.
This article appeared in the Summer 2022 issue of Education Next. Suggested citation format:
Rouhanifard, P., Doron, S., Bossard, G., Rothman, D., and Bailey, J. (2022). Covid-19 Precautions in Schools. Education Next, 22(3), 64-73.