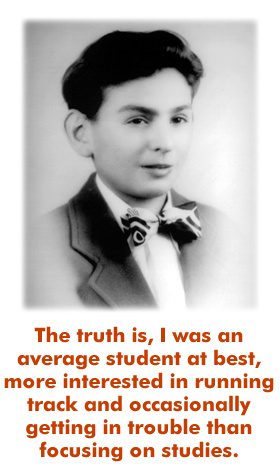 I grew up in Detroit, lived in an apartment with my immigrant parents, and walked to Thirkell Elementary, six blocks away. It was a time, the 1940s, when our industrial midwestern city was known as the nation's "Arsenal of Democracy" and had a singular mission: to provide American servicemen with the equipment they needed to win the war and return home to their families.
The city's focused determination and unity of purpose seemed to affect almost everyone. I say "almost" because focused and determined isn't an entirely accurate description of my high-school experience. The truth is, I was an average student at best, more interested in running track and occasionally getting in trouble than focusing on studies.
Basics + Innovation = Success
Even though I goofed off too much, I learned enough of the basics in Detroit's Central High to continue my education at another public institution, Michigan State University, in 1951. MSU changed my life. In contrast to high school, my college professors invited students to challenge their beliefs and question what they read in textbooks. I majored in accounting, with a minor in economics. I remember the lessons of Walter Adams, an economics professor who taught that anyone who developed innovative new products could succeed during the 1950s economic expansion. That may sound like a tame idea now, but 50 years ago it was quite a revolutionary thought for a bunch of public-school graduates far from the traditional centers of American wealth.
As a young accountant I saw people starting businesses and making money, and I knew I could do the same. With a partner and $25,000 borrowed from my father-in-law, I began to build houses and sell them with affordable mortgages, with monthly payments that were less than what people were paying in rent. Today Kaufman and Broad Homes is known as KB Home, and it's one of the largest home builders in the world. I also helped build a retirement savings company, Sun America (now AIG Retirement Services), into a Fortune 500 success.
Giving Something Back
I had a wonderful career in business, built on a lot of hard work, a little luck, and the education foundation I gained at Thirkell, Central High, and MSU. And when I retired six years ago, my wife, Edye, and I wondered how we could best give back our family wealth. That's when I thought again about education. Edye and I knew that the country was fast losing its competitive advantage, and we firmly believed that the cause was lowered standards of education. Too many kids dropped out of school, and too many other countries were rapidly gaining ground and passing us intellectually.
I thought about today's seniors at Central High, struggling to achieve in an economically depressed region. Do they have the skills necessary to succeed in college? Central High did not make the Adequate Yearly Progress standard under the federal No Child Left Behind Act, and less than 20 percent of its students score "proficient" on state standardized math tests. We need to fix that.
To help struggling students, educators, parents, and policymakers need data. In response, I'm proud to say, our foundation helped to establish a new online data analysis service, SchoolMatters.com, a source of information and analysis about our nation's public schools.
When I graduated from Central High, college graduates earned 50 percent more than high-school graduates and twice that of dropouts. Today those college grads earn 80 percent more than high-school graduates and three times as much as dropouts. This is all the more reason to fix our schools. Public school gave me a foundation from which I was able, with hard work, imagination, energy, and an entrepreneurial spirit, to create success. And that's what I want public school to be again.
-Eli Broad founded The Broad Foundation in 1999.