Sponsors

Have We Closed Socioeconomic Achievement Gaps?
A new analysis using 50 years of student achievement data
Tuesday, April 9, 2019
Hoover Institution, The Johnson Center | 1399 New York Ave NW, Suite 500, Washington, DC 20005
A new study released by Education Next uses nearly 50 years of student performance data in math, reading, and science to examine whether the achievement gap between advantaged and disadvantaged students has widened, narrowed, or persisted. Join us for an event to discuss the findings with the report authors and a panel of experts.
Join the conversation on Twitter with #TheSESgap.
Lunch will be available beginning at 11:45 a.m.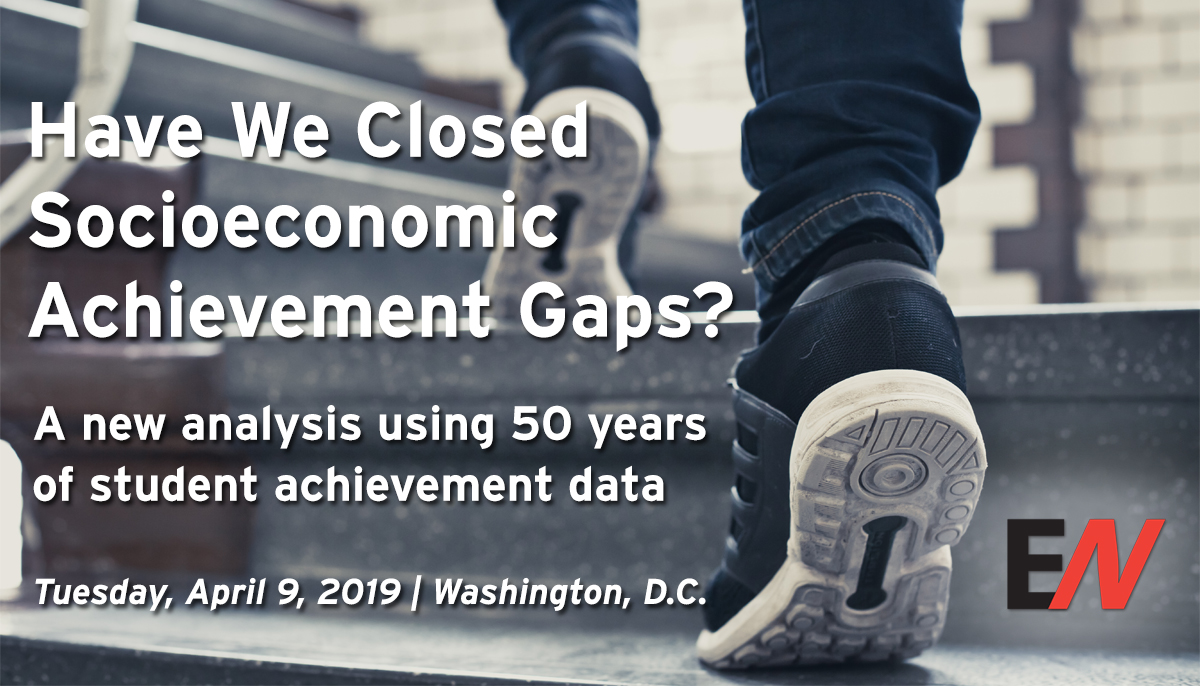 12:00 PM: Welcome
Martin R. West, Harvard Graduate School of Education
12:05 PM: Presentation of Results
Eric A. Hanushek, Stanford University; Senior Fellow, Hoover Institution
Download the presentation slides

12:20 PM: Panel Discussion
Moderator: Martin R. West, Harvard Graduate School of Education
• Isabel Sawhill, Brookings Institution
• Emma Vadehra, Executive Director, Next100
1:30 PM: Adjourn
---
Moderator
Martin R. West
Martin West is professor of education at the Harvard Graduate School of Education and a faculty research fellow at the National Bureau of Economic Research. He is also deputy director of Harvard's Program on Education Policy and Governance and editor-in-chief of Education Next, a journal of opinion and research. He received his Ph.D. in Government and Social Policy from Harvard University and his M.Phil in Economic and Social History from Oxford University. In 2013-14, West worked as senior education policy advisor to the ranking member of the U.S. Senate Committee on Health, Education, Labor, and Pensions.
@ProfMartyWest
Panelists
Eric Hanushek
Eric Hanushek is the Paul and Jean Hanna Senior Fellow at the Hoover Institution of Stanford University. He is a leader in the development of economic analysis of educational issues. He has authored numerous, highly cited studies on the effects of class size reduction, high stakes accountability, the assessment of teacher quality, and other education related topics. He introduced the idea of measuring teacher quality through the growth in student achievement that forms the basis for the development of value-added measures for teachers and schools. Most recently, Hanushek shows that the quality of education is closely related to national economic growth. He has authored or edited twenty-three books along with over 200 articles. He is a Distinguished Graduate of the United States Air Force Academy and completed his Ph.D. in economics at the Massachusetts Institute of Technology.
@EricHanushek
Isabel V. Sawhill
Isabel V. Sawhill is a senior fellow in Economic Studies at the Brookings Institution. She serves as co-director of the Budgeting for National Priorities project and co-director of the Center on Children and Families. In 2009, she began the Social Genome Project, an initiative by the Center on Children and Families that seeks to determine how to increase economic opportunity for disadvantaged children. She served as vice president and director of the Economic Studies program from 2003 to 2006. Prior to joining Brookings, Dr. Sawhill was a senior fellow at The Urban Institute. She also served as an associate director at the Office of Management and Budget from 1993 to 1995.
@isawhill
Emma Vadehra
Emma Vadehra is the executive director of Next100, a pop-up think tank for the next generation of policy leaders, powered by The Century Foundation. Prior to this role, Emma served as chief of staff for the U.S. Department of Education during the Obama administration, serving under both Secretary John B. King Jr. and Secretary Arne Duncan. As chief of staff, she worked closely with the White House and across the department to develop, execute, and oversee the administration's pre-K-through-college education agenda. She also managed the department's policy, budget, legislative affairs, and P–12 education offices. Earlier in the administration, she served as deputy assistant secretary for planning, evaluation, and policy development at the Department of Education. She also served as chief of staff at Uncommon Schools, a charter school management organization that builds and manages high-performing urban charter schools serving low-income students. Prior to these roles, she served as senior education counsel for former senator Edward M. Kennedy (D-MA), focusing on K–12 education, student loans, and AmeriCorps/national service policy. Emma serves on the boards of Blue Engine and City Year New York, and is a non-resident senior fellow at the Center for American Progress. She has a JD from Yale Law School and a bachelor's degree from Brown University.
@EmmaVadehra
Last updated March 6, 2019