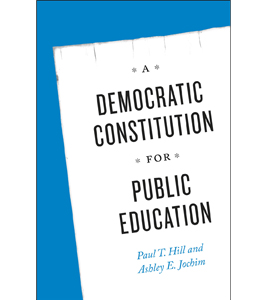 More than twenty years ago, Paul Hill wrote Reinventing Public Education, a landmark book that argued that school districts should get out of the business of running schools directly and contract with for-profit and non-profit providers instead.
His vision has become a reality, at least in part, thanks to the growth of the charter school movement and the push for "portfolio" school districts. Now he's back, this time with his colleague Ashley Jochim, to argue for an even more fundamental change in the governance of our public schools. In A Democratic Constitution for Public Education, Hill and Jochim propose doing away with school boards and replacing them with "civic education councils"—democratic bodies with clear but limited responsibilities—which oversee schools with much more freedom than most enjoy today.
Mike Petrilli talks with Hill and Jochim about this proposal, what it would mean for policy and practice at the federal, state, and local levels, and the prospects for its adoption in this edition of The Education Next Book Club.
Additional episodes of the Education Next Book Club can be found here.
– Education Next
Last updated April 1, 2015