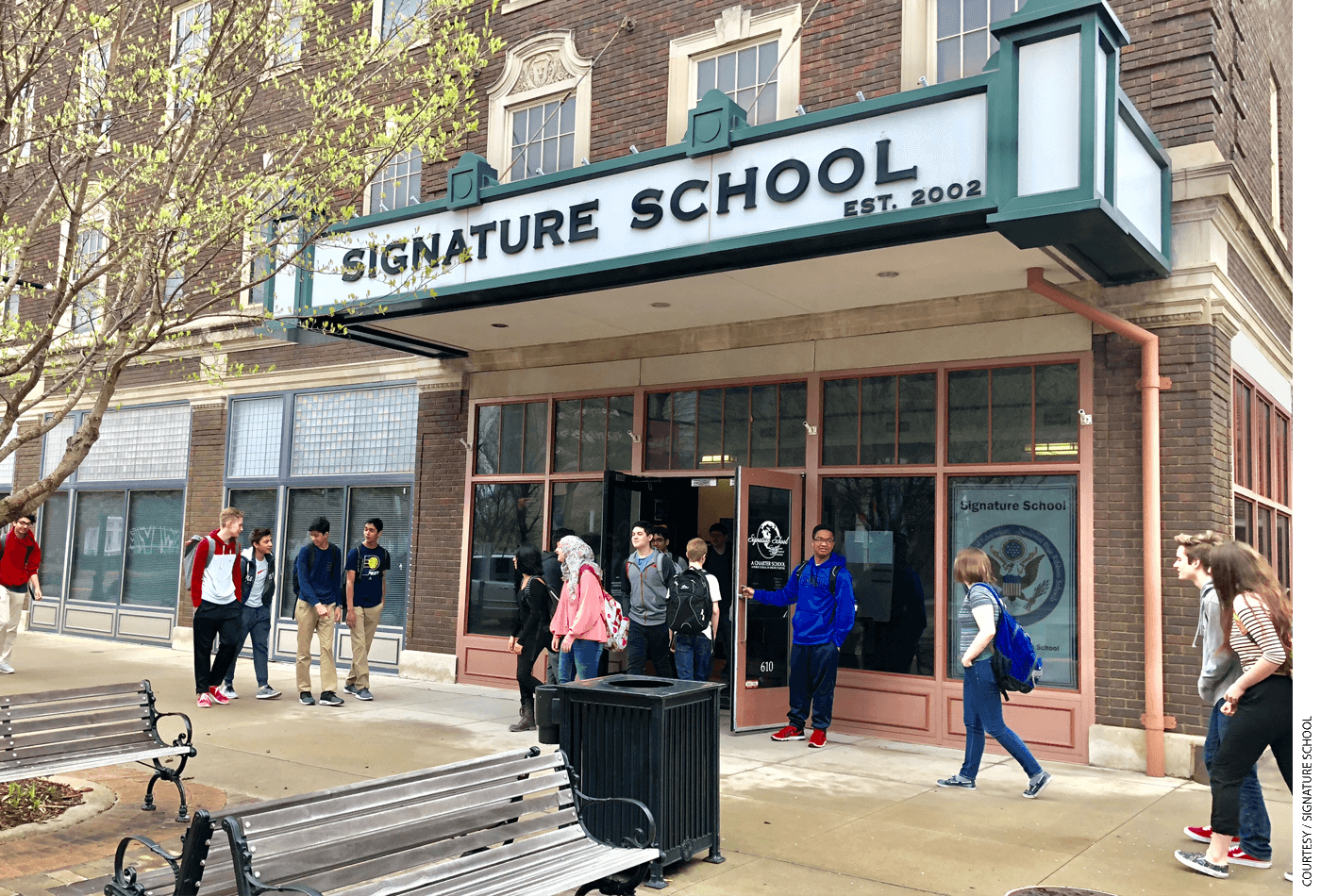 Challenge Index Top 20 Schools 2020
Signature, Evansville, IN, charter, 20.462
BASIS Phoenix, Phoenix, AZ, charter, 17.02
IDEA McAllen, McAllen, TX, charter, 16.607
Stanton College Prep, Jacksonville, FL, magnet, 16.309
Carnegie Vanguard, Houston, TX, magnet, 15.343
BASIS Prescott, Prescott, AZ, charter, 15.13
IDEA Mission, Mission, TX, charter. 14.828
Downingtown STEM Academy, Downingtown, PA, magnet, 14.618
IDEA San Juan, San Juan, TX, charter, 14.56
IDEA Pharr, Pharr, TX, charter, 14.027
IDEA Alamo, Alamo, TX, charter, 13.886
BASIS Oro Valley, Oro Valley, AZ, charter, 13.756
IDEA Frontier, Brownsville, TX, charter, 13.477
MAST at FIU, Miami, FL, magnet, 12.466
BASIS Flagstaff, Flagstaff, AZ, charter, 12.463
Jefferson County IB, Irondale, AL, magnet, 12.444
BASIS San Antonio, San Antonio, TX, charter, 12.352
IDEA Carver, San Antonio, TX, charter, 12.319
Suncoast Community, Riviera Beach, FL, magnet, 12.306
Corbett, Corbett, OR, charter, 12.274
Note: The portion of students from low-income families at the IDEA charters ranges from 75 to 96 percent. The BASIS charters don't collect family income data but have mostly middle class students. The portion of students from low-income families at the six magnets ranges from 3 (Downingtown) to 61 (MAST at FIU) percent. The Challenge Index excludes any magnets or charters whose average SAT or ACT scores are higher than the highest for any neighborhood high school. The index number represents the total number of college-level AP, IB or Cambridge exams divided by the number of graduating seniors.

Challenge Index 2020 Top 10 Charters
Signature, Evansville, IN
BASIS Phoenix, Phoenix, AZ
IDEA McAllen, McAllen, TX
BASIS Prescott, Prescott, AZ
IDEA Mission, Mission, TX
IDEA San Juan, San Juan, TX
IDEA Pharr, Pharr, TX
IDEA Alamo, Alamo, TX
BASIS Oro Valley, Oro Valley, AZ
IDEA Frontier, Brownsville, TX
Challenge Index 2020 Top 10 Magnets
Stanton College Prep, Jacksonville, FL
Carnegie Vanguard, Houston, TX
Downingtown STEM Academy, Downingtown, PA
MAST at FIU, Miami, FL
Jefferson County IB, Irondale, AL
Suncoast Community, Riviera Beach, FL
Gwinnett School of Math, Science & Technology, Lawrenceville, GA
Dreyfoos School of the Arts, West Palm Beach, FL
Young Women's Preparatory Academy, Miami, FL
Young Women's College Prep, Houston, TX
Challenge Index 2020 Top 10 Private Schools
Pine Crest, Fort Lauderdale, FL
Anselm's Abbey, Washington, DC
Keystone, San Antonio, TX
Harker, San Jose, CA
Carrollton School of the Sacred Heart, Miami, FL
Polytechnic, Pasadena, CA
Trinity Prep, Winter Park, FL
Ransom Everglades, Coconut Grove, FL
Palmer Trinity, Miami, FL
Flintridge Prep, La Canada Flintridge, CA
Note: This only a sampling. Some private schools do not provide the data necessary to rank them on the Challenge Index.
Challenge Index 2020 Top 10 Neighborhood Schools
Interlake, Bellevue, WA
Corinth, Corinth, MS
Indian Hill, Cincinnati, OH
Westlake, Austin, TX
Jericho, Jericho, NY
Wyoming, Wyoming, OH
Cypress Bay, Weston, FL
Spanish River, Boca Raton, FL
Yorktown, Arlington, VA
Newport, Bellevue, WA
Challenge Index 2020 Top 10 South
IDEA McAllen, McAllen, TX
Stanton College Prep, Jacksonville, FL
Carnegie Vanguard, Houston, TX
IDEA Mission, Mission, TX
IDEA San Juan, San Juan, TX
IDEA Pharr, Pharr, TX
IDEA Alamo, Alamo, TX
IDEA Frontier, Brownsville, TX
MAST at FIU, Miami, FL
Jefferson County IB, Irondale, AL
Challenge Index 2020 Top 10 West
BASIS Phoenix, Phoenix, AZ
BASIS Prescott, Prescott, AZ
BASIS, Oro Valley, Oro Valley, AZ
BASIS Flagstaff, Flagstaff, AZ
Corbett, Corbett, OR
AIMS College Prep, Oakland, CA
BASIS Tucson North, Tucson, AZ
BASIS Mesa, Mesa, AZ
Albuquerque Institute for Science & Math at UNM, Albuquerque, NM
Northcoast Preparatory & Performing Arts, Arcata, CA
Challenge Index 2020 Top 10 Midwest
Signature, Evansville, IN
Indian Hill, Cincinnati, OH
Utica Academy for International Studies, Sterling Heights, MI
Wyoming, Wyoming, OH
Croix Prep, Stillwater, MN
Park Tudor, Indianapolis, IN
International School of Indiana, Indianapolis, IN
Whitney Young Magnet, Chicago, IL
Westmont, Westmont, IL
Lane Tech, Chicago, IL
Challenge Index 2020 Top 10 Northeast
Downingtown STEM Academy, Downingtown, PA
Frank J. Cicarell Academy, Elizabeth, NJ
City Honors, Buffalo, NY
Achievement First Amistad, New Haven, CT
Achievement First University Prep, Brooklyn, NY
Middlesex County Math, Science & Engineering Tech, Edison, NJ
Uncommon Prep, Brooklyn, NY
Achievement First Hartford, Hartford, CT
Jericho, Jericho, NY
Middlesex County Allied Health & Biomedical Science, Woodbridge, NJ
Last updated March 10, 2021