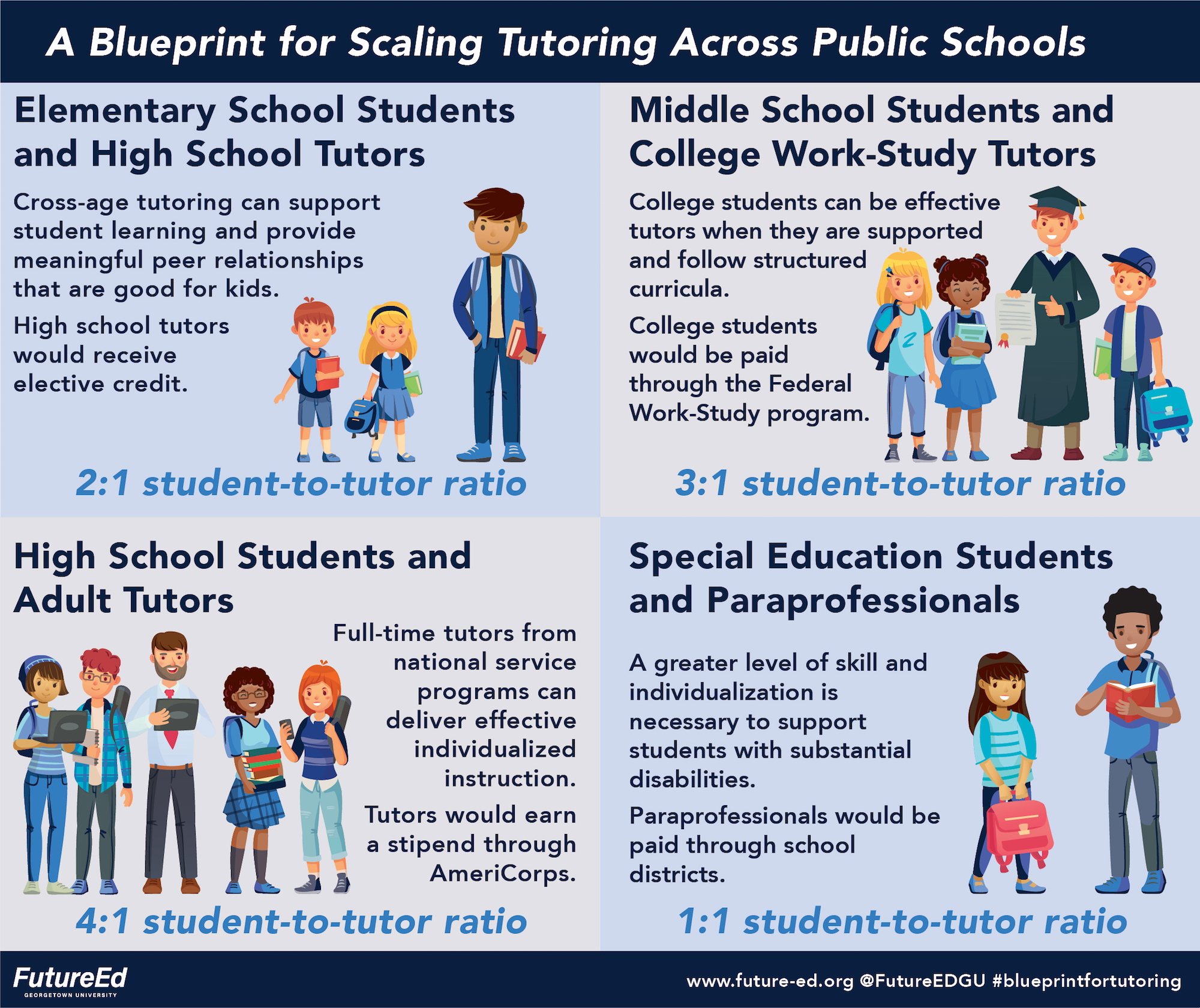 The substantial learning loss wrought by the Covid-19 pandemic has spurred calls for scaling tutoring programs to catch students up, especially those from disadvantaged backgrounds.
What if we used this moment to make tutoring a permanent part of the public-school landscape?
After all, tutoring is among the most effective education interventions ever studied. The average effect of tutoring programs on academic achievement is larger than roughly 85 percent of other education interventions and equivalent to moving a student at the 35th percentile of the achievement distribution to the 50th. Private tutoring services now constitute a $47 billion industry in the United States, one analysis shows. Yet access to tutoring remains inherently unequal because it is only broadly available to those who can afford it.
What would it take to create equal access to tutoring for students regardless of family income, race, or ethnicity? In a new working paper, we envision one approach to scaling tutoring nationally. Our idea is to extend the K-12 school year for students by 100 hours, or 30 minutes a day, and use this additional time to accelerate students' learning in reading and math with tutors working with two to four students.
To make this possible at scale, we suggest a tiered structure of peer tutors: high school students tutor elementary school students as an elective course, college students tutor middle school students as a federal work-study job, and recent college graduates tutor high school students as full-time tutors.
Tutors at each level would voluntarily choose to participate in the program and would be compensated, depended on their level, with elective course credit, Federal Work-Study wages, or stipends similar to those received by AmeriCorps members. Districts that choose to participate would have autonomy to build their programs around these core design principals and tailor them to local needs.
Of course, this idea would require a substantial investment from the federal government. In addition to tutor pay, our blueprint also includes funding for embedded coordinators in schools and districts as well as peer leaders that support tutors ongoing development. We estimate that a program targeting all K-12 students in the nation's 20,000 lowest-performing schools would cost the federal government about $10 billion annually. Expanding tutoring across all K-8 schools with high concentrations of students from low-income backgrounds—so-called Title I schools—would cost approximately $16 billion annually.
That's a tall order, given that it would nearly double the size of the current federal investment in Title I schools. But the pandemic has opened a rare window of opportunity as schools are being redesigned and the need and enthusiasm for tutoring grows.
Mounting evidence documents how the COVID-19 pandemic has resulted in substantial learning loss and increased educational inequity. For example, in the District of Columbia Public Schools, early elementary students have experienced double digit drops in the percent of students hitting early literacy targets compared to last year, with declines twice as large for Black and Latino students compared to their White peers. New analyses of the i-Ready assessment platform suggest that fall to fall achievement gains were 33% lower in math and 13% lower in reading than in previous years, with learning loss being especially acute in schools serving students of color.
Educators are now facing the enormous task of helping students make up for lost instructional time while teaching students with increasingly diverse skill levels. These broadening gaps within classrooms further strain our traditional, group-based approach to education.
At the same time, there has been a groundswell of interest in tutoring to address COVID-19 learning loss, as scholars, educators, philanthropists, and policymakers have made compelling cases for major expansions to tutoring and national service programs.
The state of Maryland has allocated $100 million toward tutoring services this year, and the Los Angeles United School District is paying teachers to serve as outside-of-school tutors providing individualized support to students. The Gates and Haslam foundations and individual donors are funding expansions of tutoring programs in various communities across the country.
But as admirable as these efforts are, they run the risk of implementing tutoring in hasty and uneven ways due to a lack of coordination and system-wide capacity. Instead of approaching tutoring as a temporary, ancillary intervention for remediating student learning, we should seize the opportunity presented by the pandemic to establish a national, federally funded tutoring infrastructure that would serve students beyond the COVID crisis.
There are many reasons to be optimistic that tutoring would have benefits beyond supporting students' academic development: positive, caring relationships with tutors might support students' social-emotional development, enhance their attachment to and attendance at school, and expose students to older peers who can serve as mentors, tapping into teenagers' need to contribute and feel respected. Tutoring could provide valuable employment opportunities and experiences for youth and create an expanded and more diverse pipeline of potential educators within local communities.
None of these benefits are guaranteed, but we can think of few educational interventions with such a range of potential returns.
Taking tutoring to scale is not a new idea. President Clinton's America Reads initiative aimed to marshal one million volunteer and college tutors to support early literacy. The accompanying legislation, however, was never funded, and the idea dissipated into a loose network of programs with highly variable structures and goals.
The No Child Left Behind Act delivered over $2 billion annually for students in Title I schools to access private afterschool tutoring services, but few programs had credible evidence of their effectiveness, and states had little funding or capacity to vet providers. In practice, both federal initiatives placed high demands on schools and families to coordinate tutoring while providing limited funding and support. They also delivered a relatively low dosage of tutoring for far fewer students than intended.
The history of education reform is littered with failed attempts to take promising ideas and evidence-based programs to scale. We should be clear-eyed about this reality. Tutoring is not a silver bullet. But if we can scale tutoring that produces just half the average impact of past school interventions, students would benefit substantially.
Matthew A. Kraft, who is FutureEd's research adviser, is an associate professor at Brown University. Grace T. Falken is a research program associate at Brown.
This piece originally appeared on the FutureEd website. FutureEd is an independent, solution-oriented think tank at Georgetown's McCourt School of Public Policy. Follow on Twitter at @futureedGU
Last updated December 9, 2020