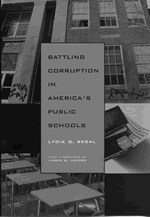 Battling Corruption in America's Public Schools, by Lydia G. Segal (Northeastern). This worthy book by Segal, an attorney and professor at the John Jay College of Criminal Justice at the City University of New York, is a companion to Making Schools Work, which she co-authored with UCLA business professor William Ouchi. Based on research in Chicago, Los Angeles, and New York, Segal exposes "systemic waste" and "embedded fraud" in the operations of those urban school systems. Some of the waste is illegal; much is simply stupid, the costly consequence of a bureaucratic, rule-bound, procedure-obsessed system in which everything becomes pricier and less efficient than it should be.
Segal offers solutions that track the prescriptions of Making Schools Work: radically decentralizing control over operations and budgets to individual schools while monitoring them with a variety of performance-based measures. Wise and timely counsel.

After Brown: The Rise and Retreat of School Desegregation, by Charles T. Clotfelter (Princeton). The rate of school desegregation has been charted for many years by the Harvard Civil Rights Project. Combining this information with data from other sources, Clotfelter provides detailed, authoritative information on changes in the racial composition of schools and colleges over the decades.
Despite the book's subtitle, the author, in a fascinating set of findings, reports progress in colleges, private schools, and public schools. Most surprising, he reports that segregation in metropolitan-area public schools attenuated noticeably between 1970 and 2000 across the country and especially in the South. Segregation within school districts fell quite dramatically. However, these gains were partially offset by an increase in racial separation between school districts.

Schools on Probation: How Accountability Works (and Doesn't Work), by Heinrich Mintrop (Teachers College). The author explores how accountability systems "really" work through extensive study of seven Maryland schools and four Kentucky schools that were put on probation under their state accountability systems. The volume is rich with interview and survey data, some of it quite illuminating. Mintrop finds that teachers in low-performing schools are initially upset by negative state evaluations, but that they quickly learn to live with the label and even to interpret it as a signal that they need more resources or more talented students.
It's not clear which is more disheartening, the rationalizations that Mintrop sympathetically catalogues or his failure to recognize that any accountability system generates resistance from workers—and that this resistance is overcome by making sanctions concrete and relentless, not by discovering a way to render them unobjectionable. Ultimately, Mintrop settles for advocating more attention to developing "capacity" (always a safe bet) and "meaning," arguing that accountability systems can work only if they connect with teachers' prevailing sense of responsibility and the established culture of teaching. However, it is unclear what Mintrop would have us do in those thousands of mediocre schools where the sense of responsibility is atrophied or the culture of teaching is weak—the very schools that accountability systems target.

School Choice and the Question of Accountability: The Milwaukee Experience, by Emily Van Dunk and Anneliese M. Dickman (Yale). Parents do not know much about the schools of Milwaukee, these authors contend. And Milwaukee's public schools lost money when some of their students took vouchers. To fix things, the authors argue, rigid accountability systems need to be put into place.
The writers are earnest, but this misguided book ignores basic principles of economics and accounting. If we were to apply the authors' claims about schooling to the car industry, we would have to conclude that only expert drivers benefited when the Japanese successfully challenged Detroit's monopoly on auto production. What's more, we would have to shell out money to Detroit so the automakers could be compensated for the cars they did not produce.