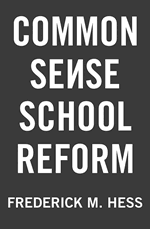 Common Sense School Reform
by Frederick M. Hess (Palgrave Macmillan).
Common sense suggests that educators, like everyone else, are more effective when given the flexibility to innovate and held accountable for their performance. Unfortunately, as our own executive editor Frederick Hess demonstrates, common sense is a tool rarely used in school reform. Much of what passes for "reform" protects a status quo in which success is seldom rewarded and failures go unpunished.
Hess uses examples from within education and beyond to suggest new approaches to issues as diverse as school choice, teacher compensation, and the use of technology. His recommendations represent a comprehensive reform agenda that policymakers would be ill-advised to ignore.
---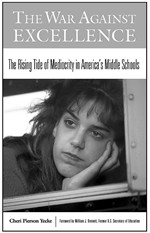 The War Against Excellence: The Rising Tide of Mediocrity in America's Middle Schools
by Cheri Pierson Yecke (Praeger).
Yecke, Minnesota's embattled education commissioner, targets two trends: the "middle-school movement" and public education's growing hostility toward the needs of gifted youngsters.
Both trends began as well-meaning impulses. The middle-school movement sought to place adolescents in environments that would be sensitive to their developmental needs and, in contrast to traditional junior high schools, would focus on "teaching the child, not the subject." The neglect of giftedness arose from the belief that any extra resources should be devoted to kids who are falling behind in school.
As with so many good intentions, however, these went badly awry. They turned into a profound anti-intellectualism that surely underlies both the decline in student achievement after 4th grade and our spotty record in nurturing tomorrow's leaders.
---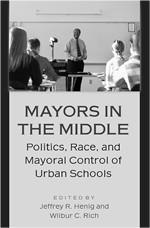 Mayors in the Middle: Politics, Race, and Mayoral Control of Urban Schools
edited by Jeffrey Henig and Wilbur Rich (Princeton).
A provocative collection of case studies on the consequences of increased mayoral control over the schools, featuring studies of Baltimore, Chicago, Detroit, Cleveland, Boston, and Washington, D.C. The cases are somewhat uneven. Some, like the studies of D.C. and Boston, illuminate the politics and practice of mayoral control, but the volume as a whole doesn't set out to make the case for or against mayoral control. On balance the book is a useful and measured contribution to a complicated question.
---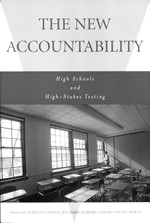 The New Accountability: High Schools and High-Stakes Testing
edited by Martin Carnoy, Richard Elmore, and Leslie Santee Siskin (RoutledgeFalmer).
States are increasingly requiring students to pass an exam in order to graduate from high school. This volume includes a series of thoughtful chapters on the practice of this "new accountability." The central argument is that "accountability systems work-when they work-by calling forth energy, motivation, commitment, knowledge, and skill" from educators. Accountability cannot compel schools to improve, the editors argue, but it can complement more traditional reforms. They call for greater attention to capacity-building, professional development, and curriculum. Sensible warnings, but delivered with the depressing and potentially misguided subtext that policy can do no more than provide tools in the hope that educators will utilize them.
---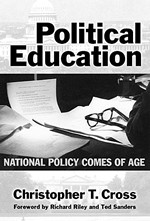 Political Education: National Policy Comes of Age
by Christopher T. Cross (Teachers College).
Veteran Washington education operative Christopher Cross chronicles the making of federal education policy from the Truman administration to the present. Cross adeptly covers the creation of the federal Department of Education and provides perceptive and fair mini-portraits of the tenures of several secretaries of education. The book's shortcomings are its que sera, sera view of the current state of federal education policy and its unimaginative musings on the future. But readers will come away with enhanced understanding of what got us where we are today.
Last updated July 6, 2006