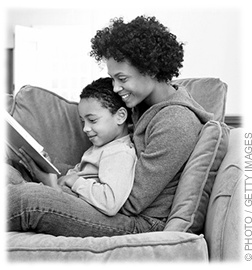 It is 1:15 on a Sunday afternoon. We are standing in the children's department of our public library, twelve 2nd graders and their parents sprawled on carpet-covered risers in front of us. On one side is a pink three-little-pigs chair; on the other, a table piled with cookies, juice, and grapes.
It is parent-child book day. Today's selection is one of our favorites, Charlotte's Web, by E. B. White.
"Okay," we say, "Let's start by taking nominations for protagonist."
Hands go up all over the room.
"Charlotte," answers a boy.
"No, I think it's Wilbur," says a mom.
We have been running these groups for six years now. The kids range in age from seven to ten, and they can identify a book's protagonist and antagonist, characterize its setting, isolate the climax, and dig out underlying themes. They've wrestled with the notion of prejudice, debated the definition of totalitarianism, and discussed the nature of bravery. When we mention this to people, they often treat us as if we'd just announced that we're Napoleon and Josephine. Before we began the groups, we solicited advice from reading specialists, who told us that the most important thing was to keep the books easy. It doesn't matter what they read as long as they read something.
We were confused, and not a little disturbed. We believed that it mattered a great deal what a child read. The real danger of turning kids off from reading and hurling them permanently in the direction of electronic media, we were convinced, was in making books too superficial. Restricting children to pop culture denied them the excitement of discovering the beauty of language and the power of meaningful ideas. We felt certain that engaging children in a sophisticated discussion was only a matter of the way in which the dialogue was structured.
For example, the words "protagonist" and "antagonist" scare off elementary-school teachers, because they think the words are intimidating. But to a 2nd grader, who does not know that he or she is not supposed to be able to learn this, protagonist and antagonist are just words, like "vegetable" or "download."
To explain protagonist, the character that pushes the action forward, we ask a child whether he ever wants to stay up past his bedtime.
"Sure," says Tommy.
"And who stops you?"
"MOM."
So Tommy is the protagonist, pushing forward the action of gaining personal freedom, and Mom is the antagonist, holding that action back.
We have also found that children's analytic abilities are every bit as acute as those of their parents; it's just a matter of presentation. We begin by telling our groups that every work of fiction is actually a mystery. Will Charlotte save Wilbur? Then we explain that there is also the mystery of what the author is writing about, the theme of the story. We tell the kids that plot, setting, character, and central conflict are the clues that will help them find out what a book is really about. Every kid loves a mystery (as do their parents), and what's more, every kid wants to be the detective who solves the puzzle.
The children (and parents) in our Charlotte's Web group got this right away.
"Charlotte is the protagonist," said Lucia. "She writes the words in the web."
"Yes," agreed Zach's mom. "Wilbur just sits around waiting to be saved."
They also understood that the antagonist must be Templeton the rat, not Mr. Zuckerman, even though Mr. Zuckerman is the one who suggests eating Wilbur for Christmas dinner. This is again because Templeton is an active character. Charlotte is pushing forward the action of living life by helping others, and it is Templeton's unabashed greed and selfishness that she must overcome.
On to Ulysses.
Lawrence and Nancy Goldstone are the authors of Deconstructing Penguins: Parents, Kids, and the Bond of Reading.