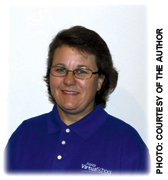 Is there such a thing as a "typical" day in the life of a Florida Virtual School (FLVS) teacher? Each day brings new opportunities, challenges, and last-minute schedule changes.
Not that it's easy. If I had a dime for every time someone said, "Oh that must be a piece-of-cake job," or "I would love to sit at home all day," I would be a wealthy teacher.
However, for this full-time virtual teacher and mother of three, it works. My day begins at 6 AM, a quiet time in my house. I spend the early hours working on grade books. I teach 6th- and 7th-grade math to 90 students. Parents and students go online to the grade book to view the student's progress. My goal is to give each one of them the productive, positive, and personalized feedback that will enable the student to turn mistakes into learning opportunities.
FLVS provides the curriculum, so I don't have to plan lessons or develop tests and can easily individualize instruction. I can personalize my classroom via the announcement page, which works like a virtual bulletin board.
By 8 AM, grading is done and overnight e-mails are answered. I view my calendar, noting any scheduled meetings and appointments. I sit down for breakfast with my youngest son, nine-year-old Camron, to prepare him for his day. Camron is enrolled in the FLVS full-time virtual instruction option for elementary school students and follows an accelerated curriculum for gifted students. I make sure he has his assignments organized before he traipses off to his own virtual world. Being able to oversee his schooling is a major benefit of working as a virtual teacher.
I jump back to the computer and my morning call list. My students vary in how much one-on-one instruction they need. Some students I speak to weekly, others less often, but at least once a month. Whenever students do not understand a concept, they can pick up the phone and call me for help. If their questions require that they be able to see what I am talking about, we have two options: We can use the "whiteboard," where they can see what I am doing and talk to me on the phone at the same time. Students can write on the whiteboard and go step-by-step through a problem so that I can see where they are making mistakes. We can also use the web-based program Elluminate to work through problems together using a microphone instead of the telephone.
Navigating through FLVS courses is easy for students. Tabs enable them to move around the site at the click of a button. The lessons tab is where they learn the content, see examples, and work on practice problems. The assessment tab is where they submit their assignments for grading. If they want to, students can go to the grade book to reset an assessment and do the assignment again for a new grade. They can interact with each other in the discussion board area.
Before I know it, it is time for lunch, and I can step away from my computer to enjoy some quality time with my son: eat a sandwich, go for a walk, or play a video game. Pretty soon, it's time to get back to work.
This afternoon, I'll be taking my job on the road. Camron plays travel baseball for Gatorball Academy in Gainesville, an hour's drive away. I make a call list: Who needs a welcome call? Monthly call? Do any of my students want to go over an assignment? I pack up my computer, grab my list and cell phone, and out the door we go. For the next few hours, I make good use of my cell phone, calling my students, answering their cries for help, letting parents know how wonderfully well their child is doing.
Once we're home, I make a few notes for tomorrow. The day is done.
Is this a typical virtual teacher's day? Will tomorrow be the same? There is no telling. What I can say, and what my students know, is that together we have the tools and the flexibility to meet whatever challenges the day brings.
Karen Faucett taught middle-school math in a traditional school setting for 13 years before moving to virtual education.