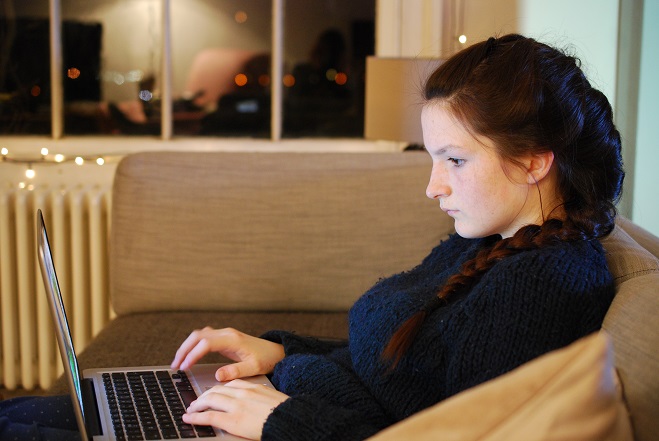 In the book Blended: Using Disruptive Innovation to Improve Schools, Michael B. Horn and Heather Staker offer a practical guide to implementing blended learning techniques in K-12 classrooms. In this excerpt, they explain how blended learning makes it possible to organize schools around the things students care most about: accomplishing something and having fun with their friends, and how Summit Public Schools, a California charter network, has reimagined middle and high school along these lines. Michael Horn is co-founder and distinguished fellow at the Clayton Christensen Institute, and Heather Staker, adjunct fellow at the Clayton Christensen Institute, is founder and president of ReadytoBlend.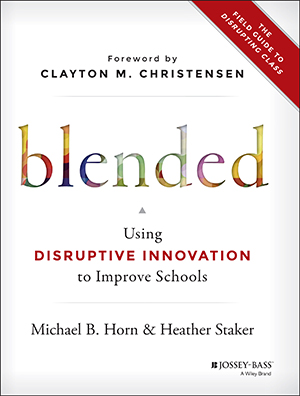 When schools get the design right from the students' perspective, so they feel that school aligns well with the things that matter to them, students show up to school motivated and eager to learn. The first task for blended-learning teams therefore is to understand the student perspective and to design with student motivation as a guiding star.
Schools are not alone in struggling to design an offering that their end users will willingly show up to devour. More than 75 percent of new products introduced each year fail, and that's true even if they are backed by big companies, popular brand names, and aggressive advertising.
Companies struggle so desperately to predict whether a customer in a given demographic category will buy a new product because from the customer's perspective the market is not structured by customer or product category. [5] Customers just find themselves needing to get things done. They have "jobs" that arise regularly that demand resolution, so they look around for a product or service that they can "hire" to help them out. This is how customers experience life.
Students' Jobs to Be Done
Similar to people who deprioritize the job of "maintain my physical health," many students languish in school or do not come to class at all because education isn't a job that they are trying to do. Education is something they might choose to hire to do that job—but it isn't the job. Teachers can work extraordinarily hard to improve the features of their products, in the hope that more engaging lessons, media, and student-response clickers will improve student motivation. But their efforts are in vain if they are aimed at providing an even better way for students to do something that they were never trying to do in the first place. Of course, schools can try punishments and rewards to coerce students to learn. Ultimately, however, if this is the best school can offer, many students will hire other solutions to solve the problems that arise in their lives, and school will descend to a lower and lower priority.
This is not to say that a school should not instill in students certain core knowledge, skills, and dispositions; rather, that in order to accomplish these objectives, the school must create an experience that is intrinsically motivating for students. School can be a place where students find joy in learning. The key is to crawl into the learners' skin and see their circumstances—including their anxieties, immediate problems, and innate motivations—from their point of view. The jobs-to-be-done theory is a tool to help you do that.
We have observed that there are two core jobs that are the highest priority for most students. First, they want to feel successful. They want to feel that they are making progress and accomplishing something, rather than experiencing nothing but repeated failure or running up against walls. [9] Second, they want to have fun with friends. That means they want positive, rewarding social experiences with others, including with peers, teachers, coaches, advisors, and other potential friends.
Fulfilling the Job for Students
Summit Public Schools, a charter school network based in Redwood City, California, stands out as among the most groundbreaking innovators. Several years ago, a group of parents in Silicon Valley came together to reimagine the middle and high school experience, with the goal of radically improving student readiness for college and for life after school. They hired Diane Tavenner, a former assistant principal at Mountain View High School, to launch Summit Public Schools and serve as its CEO. Diane opened Summit's flagship school in 2003, and has since added five additional schools, which serve roughly 1,600 students in grades 6 through 12.
By 2011 Summit had already achieved national acclaim. Newsweek listed it as one of the top ten most transformational high schools in America, and its schools consistently outperformed their peers on California's Academic Performance Index (API). [13] But that fall, the network's leaders decided to make a change. They were concerned about data that showed that although nearly all of Summit's students had gone on to college, some students were struggling when they arrived there. [14] The leaders began thinking about ways to design a set of experiences that better prepared students with the content knowledge, cognitive skills, habits of success, and real-world practice necessary to thrive in college and beyond. At first they experimented with a Station Rotation model for math at two of their schools, but over time they evolved to deliver a much more personalized, Flex model for all subjects across all the Summit schools. Their efforts are already paying off, they report, even as they continue to experiment, learn, and iterate accordingly.
Summit's SMART goal is to personalize learning so that 100 percent of its students are prepared to succeed in college and life. To get there, it developed experiences that help students want to hire education so that they show up ready to learn. For the purposes of this chapter, we describe eight meta-experiences that Summit identified as critical from the students' perspective.
1. Student agency. Summit believes that for students to feel successful and make progress every day, one essential element is empowering them to set individual learning goals for their own personal learning plans and then providing them with enough time and the right processes each day to make progress toward those individualized goals. Faculty believe students need to experience making personal decisions about the direction of their learning and choosing from multiple options to learn the required concepts. Summit even extends this to incorporating student feedback into improving its school design and asking students to rate the menu of lessons its teachers develop.
2. Individual mastery. Summit's faculty think that students should make progress as quickly or slowly as they are able to demonstrate their preparedness to move on, and that each student's pace should be individual, not collective. As Tavenner says, when you realize how irrational the current system of schooling is—in which students advance based on time regardless of whether they have mastered material, which has significant repercussions for their odds of success on future work—and then you give students a rational, competency-based schooling system—one that just makes sense because it is set up for them to be successful—they want more of it. Inherent in this concept is that students work on skills that are "just above" their own current capabilities: not too difficult and not too easy, with occasional opportunities to stretch or challenge themselves. [15]
3. Access to actionable data and rapid feedback. Following from the emphasis on student agency and individual mastery, Summit decided that giving students rapid feedback and data about their performance would be a critical experience for them to accomplish their job of feeling successful. Without data, students would not know how they were doing and what they needed to do to be successful. But armed with data and rapid feedback that was actionable—meaning students could use it to figure out where they needed to do more work and improve their performance—students would be able to achieve success. [16] Having data also helps students have positive experiences with their friends—from fellow peers to teachers—because they can collaborate productively on how to make progress.
4. Transparency in learning goals. To help students understand what success means, Summit thinks it is also important to provide students with a clear view of what they are trying to achieve, not just in the course of a given unit but over their entire academic career at Summit. This means that students should have not only a clear picture of what competencies they will be expected to master but also a sense of the time frame in which they must master those competencies to stay on track to realize their broader goals for success in life.
5. Sustained periods of quiet, solitary reading time. Although having opportunities for students to engage in productive group work is vital—so students can master teamwork skills, but also to help students have fun with friends—Summit's philosophy is that all too often schools overlook the importance of providing students with quiet time when they can immerse themselves in a book. Students often do not have this type of an experience at home, and without this opportunity they may struggle to build the reading capacity they need to be successful in so many other parts of their schooling. Training students to set apart time for extended focus on a book is an important experience that Summit believes is necessary for students to fulfill their success job. [17]
6. Meaningful work experiences. Summit's theory is that students are more likely to hire school when their experiences there help them connect the acquisition of knowledge with the ability to be successful in life. School is better when it feels relevant. As Tavenner says, students are smart. They will opt out of something that they know is not what schools say it is if it does not appear to help get them where they want to go. In many cases, this means that schools have to help students understand the range of career opportunities and life pathways that are possible so that they can develop a broader notion of what they might want to do when they grow up—beyond what the adults in their immediate lives have done—and to see how learning would be critical to achieving those goals. Incorporated in this experience is not only connecting what students do as part of their schooling to what and why it will make them successful, but also giving students the opportunity to work—and have fun—with friends, teachers, and others in the community.
7. Mentoring experiences. Mentoring is a big deal at Summit. School leaders knew that mentors would be vital to help students make progress toward rigorous but attainable goals and that students would benefit from that social relationship if the mentors were good. Summit views mentorship as a critical part of helping students learn to build social capital—or networks of people—that students can use to achieve success throughout their lives.
8. Positive group experiences. Summit also believes that students must have positive group experiences in which they work with others to tackle hard projects and discuss issues that are of importance to them. Fostering these experiences helps students have fun with their friends and builds their capacity to relate to and get along with others.
What to Integrate, and How
To create the experiences of student agency and individual mastery, Summit believed there was no available software that provided the right functionality. So it partnered with several organizations—the Girard Education Foundation, an education philanthropy based in San Diego; Illuminate Education, a student data platform company; and the Alvo Institute, a company that helps schools design blended-learning environments—to create new software called Activate Instruction. This free online tool gives students access to a variety of learning resources curated by teachers and organized by competency in what it calls "playlists." Students working on Activate have multiple options—from online videos to articles and games—for how they learn any given competency through the playlists.
This in turn allows Summit to offer students eight hours a week in school and eight hours a week at home of what it calls Personalized Learning Time. During this time, students cycle through the process that the following figure illustrates. They set learning goals for the week; develop a plan to achieve the goals using Activate's playlists; and work through the plan. When they feel ready, they can take assessments, which are available on demand, to show evidence that they have mastered the concepts or skills. That means that if students already believe they understand a concept, they can take an assessment at the outset and skip ahead. If they fail, then they work through their individual playlist until they are capable of showing evidence of mastery.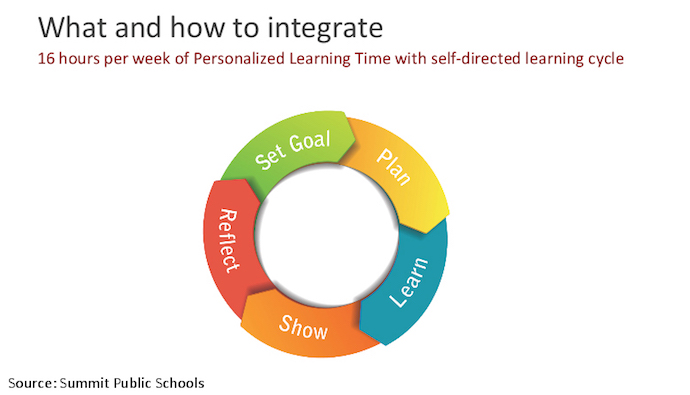 After taking assessments, students receive pass/fail feedback, as well as a detailed explanation of their performance. This short-cycle feedback loop allows students not only to make progress—and feel ownership of their progress—in steady, frequent increments, but also to have access to actionable data. With these data in hand, each Friday students sit down with their mentors to reflect on their weekly progress, how they feel about their learning experience, what worked well, and what to improve.
Because students can progress as fast as they master material, Summit had to create, up front, a coherent scope, suggested sequence, and associated playlists of resources for the entire set of competencies a student should master—meaning all the way through high school. That means for teachers, there is no lesson planning the night before. The ancillary benefit of this is that Summit posts this scope and sequence in its software so that students can see what's ahead. Summit even has a graphical line in its student-facing data system that moves with the calendar to help students see where they should be in their learning if they want to complete high school on time and that allows them to make adjustments accordingly.
To give students sustained periods of quiet, solitary reading time, the school created Summit Reads, a block of time each day for students to free read. Summit uses an e-reading platform, called Curriculet, during this period, to deliver texts that contain a layer of embedded questions, quizzes, and rich media annotations. Curriculet allows Summit teachers to test for understanding in real time and provides them with a dashboard to view quiz results, time on task, and other metrics that help them coach more effectively.
Summit uses these experiences to free up large blocks of time for students to tackle "deeper learning" through project-based learning, which Summit believes is uniquely capable of accomplishing the dual purpose of helping students fulfill their jobs to be done and also helping Summit fulfill its own job of ensuring that 100 percent of students have the cognitive skills and habits of success necessary to succeed in college and life. Exhibit 5.1 shows a typical daily schedule for a Summit student and how project-based learning figures prominently into the day.
Exhibit 5.1
A Day in the Life of a Summit Public Schools Student
| | |
| --- | --- |
| 7:30 | Begin to arrive; work on personalized learning plan |
| 8:25 | Schools start with project time (math and science) |
| 10:20 | Break |
| 10:35 | Personalized Learning Time |
| 11:35 | PE or sustained reading time (using Curriculet) |
| 12:35 | Lunch and recess outside |
| 1:20 | Project time (English and history) |
| 3:15 | School ends; can stay and work on personalized learning plan |
Note: On Fridays, the student spends most of the day on a personalized learning plan and has a one-on-one check-in with her mentor.
In addition, Summit provides its students with eight weeks a year of "Expeditions," in which students learn largely off-campus in the real world. Students explore their passions in everything from elective courses to real internships to learn about career options. Expeditions give students the chance to build strong relationships with their Expedition teachers and people in outside community organizations. Summit also has an internal mentorship program, which consists of weekly ten-minute, student-led, one-on-one meetings with an assigned teacher who becomes a student's academic coach, college counselor, family liaison, and advocate. Students lead one to three meetings a year with their mentor and family. Each teacher mentors roughly fifteen students per year.
Finally, both the expeditions and project-based learning provide students with ample time for positive group experiences. Summit supplements this with forty-five minutes per week of community time, in which students meet together in small groups to engage in discussions about issues important to them.
Schools like Summit are taking advantage of two breakthroughs to make it easier for them to integrate the right academic and social experiences from a student jobs-to-be-done perspective. First, online content is improving such that it is gradually becoming capable of serving as the backbone for student learning in some courses and subjects for some students. As schools are able to deliver content via online platforms, teachers are left with more time and energy to devote to creating the most positive, interactive learning experiences possible for students on their campuses. Summit teachers are able to invest more time in one-on-one mentoring because they are no longer focused on their next lecture. Instead, they can turn their attention to developing students' habits of success by creating deep personal relationships with students. Second, in some cases online content is accelerating the mastery of basic skills and compressing the amount of time spent on them. This opens up blocks of time for activities like project time and Socratic discussions, which not only help schools accomplish their job of developing articulate, critical thinkers, but also, conveniently, help students fulfill their job of having fun with friends.
---
Notes
5.
 This section and the next two sections of Chapter 5 are based largely on
Disrupting Class
, Chapter 7.
9. 
There are several points of evidence supporting this observation. First, when we use the phrase "want to feel successful," we do not mean the kind of surface-level idea of success that constitutes praising a child no matter how she performed on a given activity, under the mistaken idea that building "self-esteem" in this vein is a good idea. Instead, we mean true success, when the student in fact accomplishes and achieves something real and makes progress. A discussion of the perils of the former can be found in George Will's discussion of Po Bronson and Ashley Merryman's book,
NurtureShock: New Thinking About Children
. See George F. Will, "How to Ruin a Child: Too Much Esteem, Too Little Sleep,"
Washington Post
, March 4, 2010, http://www.washingtonpost.com/wp-dyn/content/article/2010/03/03/AR2010030303075.html. Further evidence that feeling successful is a primary job of students—and of all people—emerges from the field of cognitive science. As Daniel T. Willingham writes in Chapter 1 of his book
Why Don't Students Like School? A Cognitive Scientist Answers Questions about How the Mind Works and What It Means for the Classroom
(San Francisco: Jossey-Bass, 2009): Solving problems brings pleasure. When I say "problem solving" in this book, I mean any cognitive work that succeeds; it might be understanding a difficult passage of prose, planning a garden, or sizing up an investment opportunity. There is a sense of satisfaction, of fulfillment, in successful thinking. In the last ten years neuroscientists have discovered that there is overlap between the brain areas and chemicals that are important in learning and those that are important in the brain's natural reward system…. Many neuroscientists suspect that the two systems are related. Rats in a maze learn better when rewarded with cheese. When you solve a problem, your brain may reward itself with a small dose of dopamine, a naturally occurring chemical that is important to the brain's pleasure system. Neuroscientists know that dopamine is important in both systems—learning and pleasure—but haven't yet worked out the explicit tie between them. Even though the neurochemistry is not completely understood, it seems undeniable that people take pleasure in solving problems…. It's notable too that the pleasure is in the solving of the problem. Working on a problem with no sense that you're making progress is not pleasurable. In addition, in a book by Susan A. Ambrose, Michele DiPetro, Michael W. Bridges, Marsha C. Lovett, and Marie K. Norman,
How Learning Works: Seven Research-Based Principles for Smart Teaching
(San Francisco: Jossey-Bass, 2010), the authors cite several other studies that support this hypothesis. In particular, the authors dedicate a chapter to the research on motivation, in which they summarize that "When students find positive value in a learning goal or activity, expect to successfully achieve a desired learning outcome, and perceive support from their environment, they are likely to be strongly motivated to learn." In particular, they write, "there are two important concepts that are central to understanding motivation: (1) the subjective value of a goal and (2) the expectancies, or expectations for successful attainment of that goal. Although many theories have been offered to explain motivation, most position these two concepts at the core of their framework (Atkinson, 1957, 1964; Wigfield & Eccles, 1992, 2000)." The ability to experience success, in other words, is one of the central underpinnings of motivation. As the authors write, "Although one must value a desired outcome in order to be motivated to pursue it, value alone is insufficient to motivate behavior. People are also motivated to pursue goals and outcomes that they believe they can successfully achieve." Richard E. Mayer and Ruth C. Clark, in their book
eLearning and the Science of Instruction: Proven Guidelines for Consumers and Designers of Multimedia Learning Second Edition
(San Francisco: Wiley, 2008), also discuss how learners experience enjoyment as they successfully solve problems. As Barbara Gaddy Carrio, Richard A. DeLorenzo, Wendy J. Battino, and Rick M. Schreiber note in
Delivering on the Promise: The Education Revolution
(Bloomington, IN: Solution Tree Press, 2009), "A fundamental principle of the RISC Approach to Schooling is that student motivation and engagement have a great deal to do with student success." What is distinct about understanding motivation from the jobs-to-be-done perspective is that we learn that all students are motivated to feel success; but for many, school is not something they can hire to experience success. Therefore students often turn to other avenues, but that does not mean these students are unmotivated.
13.
"High School Rankings 2011:
Newsweek
Ranks America's Most Transformative,"
Newsweek
, June 21, 2011, http://www.newsweek.com/high-school-rankings-2011-newsweek-ranks-americas-most-transformative-67911 (accessed December 26, 2013). Many people also know Summit Public Schools from its starring role in the documentary
Waiting for Superman
.
14.
 Matt Wilka and Jeff Cohen, "It's Not Just About the Model: Blended Learning, Innovation, and Year 2 at Summit Public Schools," FSG, http://www.fsg.org/Portals/0/Uploads/Documents/PDF/Blended_Learning_Innovation.pdf. Incidentally, the percentage of Summit Public School's former students who were succeeding in college—55 percent—was far higher than the national average, but Diane and the school's teachers felt strongly that their mission was to educate all students to be successful in life. If any students were failing in college because they were not prepared adequately in any way, then they believed they were not meeting that mission.
15. 
There is considerable evidence that, as cognitive scientist Daniel Willingham writes, "Working on problems that are of the right level of difficult is rewarding, but working on problems that are too easy or too difficult is unpleasant." A key to helping students experience success is borrowing a concept from the world of gaming and allowing students to learn at the point that will maximize their chances of success while still being sufficiently challenging or interesting that they will experience that triumph as a real moment of progress so that they will want to keep learning. Daniel Willingham,
Why Don't Students Like School: A Cognitive Scientist Answers Questions about How the Mind Works and What It Means for Your Classroom
, (San Francisco: Jossey-Bass, 2009), Ch. 1. This idea relates to the notion of the Zone of Proximal Development, which was developed by Lev Vygotsky, a Soviet psychologist. See the Wikipedia entry, "Zone of proximal development," for a high-level summary of the concept at
http://en.wikipedia.org/wiki/Zone_of_proximal_development#cite_note-4
(accessed April 7, 2010). An often-cited definition of this term is "the distance between the actual developmental level as determined by independent problem solving and the level of potential development as determined through problem solving under adult guidance, or in collaboration with more capable peers," as written in his own work (see L. S. Vygotsky,
Mind in Society: Development of Higher Psychological Processes
[Cambridge: Harvard, 1978], p. 86). In addition, the gaming industry teaches us that people are most motivated when success is almost within reach, but still on the horizon. William "Bing" Gordon, a top executive in the video game industry, said that "one principal of gamification is you only get motivated when you're 90 percent of the way to success." Kevin Werbach, "Gamification" course, Coursera, https://class.coursera.org/gamification-003/lecture (accessed April 13, 2014), timecode: 07:37.
16.
 Data and feedback are not always good for learning. When a student receives feedback but cannot do anything useful with that feedback, it has a negative influence on student learning. Conversely, when the student can do something with the data, then it has a positive impact on learning. According to
Delivering on the Promise: The Education Revolution
(Kindle Locations), pp. 1624–1630: Relative to student feedback, findings from research might best be summed up by saying that feedback in and of itself is not necessarily useful. In fact, the long-used practice of simply telling students which answers are right and which are wrong (a practice with which most readers likely have considerable firsthand experience) has a negative influence on student learning (see Bangert-Drowns, Kulik, Kulik, & Morgan [1991], cited in Marzano, 2006). Conversely, ensuring that students are clear about the criteria that will be used to judge their responses, providing students with the correct answers, giving them explanations about why their responses were correct or incorrect, and asking students to continue responding to an assessment item until they correctly answer are all practices that research shows can result in statistically significant gains in student achievement (Marzano, 2006).
17.
 More researchers are worrying that the practice of scanning and skimming when people read online is having a negative impact on the ability of people to read longer texts and engage in deeper reading. See Michael S. Rosenwald, "Serious Reading Takes a Hit from Online Scanning and Skimming, Researchers Say,"
Washington Post
, April 6, 2014 (http://www.washingtonpost.com/local/serious-reading-takes-a-hit-from-online-scanning-and-skimming-researchers-say/2014/04/06/088028d2-b5d2–11e3-b899–20667de76985_story.html). We also recommend this thoughtful response to this article: Dan Willingham, "Don't Blame the Internet: We Can Still Think and Read Critically, We Just Don't Want To," RealClearEducation, April 16, 2014 (http://www.realcleareducation.com/articles/2014/04/16/dont_blame_the_web_we_can_still_think_and_read_critically_we_just_dont_want_to_942.html).