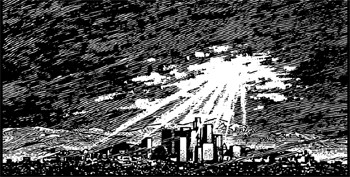 Los Angeles mayor Antonio Villaraigosa's attempt to take over the Los Angeles Unified School District (LAUSD) can be seen as an act of pure political hubris: a charismatic, progressive newcomer running with the big dogs of urban politics. Daley did it in Chicago and Bloomberg in New York, so why not? In this conventional view, the mayor is a political opportunist advancing under a cobbled-together, best-we-could-do-on-a-Thursday-night piece of legislation of questionable constitutionality. But history reveals another context in which to understand the mayor's educational activism. It also provides a ray of optimism about the future of public education in the nation's second-largest school district.
If we focus the lens of history back half a century, Villaraigosa's school takeover attempt looks like the epitaph for an institution of public education founded by California's political Progressives in the first decade of the 20th century. In 1903 the Los Angeles city charter was changed to take school governance away from a corrupt city government. Following that era's Progressive ideal, civic-minded citizens would raise the schools above politics and a corps of trained professionals would operate them. As historian Judith Raftery noted, "Los Angeles schools became a paradigm of Progressive reform."
However, for the last four decades, Los Angeles Unified has been subjected to huge system shocks that have betrayed the Progressive Era ideal and hollowed out the district's authority over its own operations. Desegregation and school finance lawsuits painted the district as discriminatory and racist. The desegregation suit itself, filed in 1964, dragged out for more than a quarter century. The remedy of mandatory busing brought about a backlash, and racial politics dominated the district. By the end of the 1960s, the storied "walkout" and the beginnings of Chicano activism joined the desegregation issue. In the midst of the controversy over busing, the middle class, particularly the white middle class, took a moving van to the suburbs. Since 1950, enrollment shifted from about 85 percent white to about 90 percent students of color. Some 80 percent of students are poor enough to be eligible for free or reduced-price lunch.
In 1976, collective bargaining legislation bolstered teachers as an interest group, toughened an already hearty United Teachers Los Angeles, and limited principals' unchallenged authority over teachers. Other employee groups, including the principals themselves, also organized. An image of self-interest replaced the view of educators as dutiful and self-sacrificing.
A successful tax equity lawsuit and a property tax limitation initiative, Proposition 13, removed the school board's taxing authority and effectively moved fiscal governance of the district to Sacramento in 1978. Although current board chair Marlene Canter may complain that the mayor's actions threaten the legitimate authority of an independent school board, the reality is that the board lost control of the purse strings long ago.
Just as political realists predicted at the time, when taxing control moved to Sacramento, so, too, did the momentum for school reform and control. In 1982, Bill Honig defeated a 12-year incumbent to become state school superintendent. Education reform became political currency that was exchanged for dollars. Over the next 20 years, a series of laws used the power of the purse to shape the budgets of local school districts: graduation requirements, academic standards and testing, lengthened school days and years, and class size reduction. The link between capitol and classroom had become much stronger and the hand of the local school board weaker.
LAUSD has not gone quietly into the institutional twilight. The administration itself initiated two reform plans in the 1980s. The second of these, The Children Can No Longer Wait, was remarkable in its self-criticism and in its analysis. It called the district's failure to educate Latino and African American students "racist," and it said more than $400 million in reforms would be needed. By the 1990s, reform momentum had moved outside the district. LEARN (Los Angeles Educational Alliance for Restructuring Now) created what looked like an unbeatable political coalition of business, civic, and labor leaders including former mayor Richard Riordan and teachers union president Helen Bernstein. In 1993, its plan to decentralize schools gained board approval and the support of Superintendent Sidney Thompson. The Los Angeles Annenberg Metropolitan Project followed and bankrolled LEARN, creating what it called families of high schools and their feeder elementary and middle schools.
Both these projects began with great celebration and disappeared amid a cloud of disappointment. Riordan concluded, "LEARN failed."
A Better Plan
Why, then, any optimism? First, despite all the criticism, the district is actually getting better. Elementary reading and math scores have increased faster than those in most large California cities. A massive construction project, larger than Boston's "Big Dig" and one hopes better managed, will relieve overcrowding and allow a larger variety of schools. Second, the political fight over who should control the schools has now broadened into a discussion over what the school district should do and how it should work. In January 2007, Villaraigosa's education team issued a reform plan called The Schoolhouse, aimed at all schools in Los Angeles Unified. The Los Angeles Times labeled the mayor's report a fallback bully pulpit in case the courts overturn the 2006 legislation giving him control over three clusters of low-performing schools. It's much more than that. Many of the mayor's ideas raise tough operational issues that the school district either has not dealt with or has persistently rejected. Third, four central reform ideas—decentralization, choice, high standards, and grass-roots participation—have persisted for more than two decades along with increasing sophistication about how to get them to mesh.
Decentralization turns the Progressive Era ideal of a well-ordered hierarchy on its head. The idea of moving decisions "close to the customer" originated in research on effective corporations in the 1980s and the Effective Schools movement of the same era reflects that research, so there's nothing novel in the mayor's plan. But the plan displays an increasingly sophisticated understanding of what is necessary to decentralize school operations effectively.
Earlier systemic reform plans failed to link decentralization and accountability for results. The mayor's plan does not shy away from restructuring chronically underperforming schools and moving employees if necessary. (Some 305 LAUSD schools already face intervention under the federal No Child Left Behind Act sanctions.) He wants to strengthen peer review and "provide additional compensation for those teachers that take on substantial additional responsibility and deliver results at schools." By linking decentralization to accountability for outcomes, the mayor reinserts teachers into the reform process. As teachers who have read the plan realize full well, it has implications for their jobs as well as for relationships with their union. It may well be that because of his impeccable political credentials Villaraigosa is the best-positioned leader in Los Angeles to connect reforms in the schoolhouse to the house of labor.
If decisions about employment, budget, and program move to the schools, as the mayor advocates, this threatens everything else in the school bureaucracy, too. The instinct to decentralize, which began as an escape from bureaucracy, is becoming an imperative to design a different kind of system. Autonomy is linked to accountability and support mechanisms.
Villaraigosa's plan is silent about expanding charter schools and other options, but his planning team has drawn strong support from charter operators. As Times columnist Bob Sipchen wrote, "If the board continues to reject the mayor's advances, his team could simply work from the outside in and start trying to convert district schools to charters."
Ironically, even while Los Angeles Unified has tightened central controls over the last six years, it has allowed 104 charters. There are more than 50 magnet schools, and there is a virtual charter district composed of a high school and surrounding elementary schools in the Pacific Palisades. Like decentralization, the idea of providing variety and choice has been part of every reform plan. Much of the energy behind charter schools has come from the leaders of earlier reforms.
High standards are the first pillar in the mayor's plan and have been part of every reform of the last 20 years. What's different now is that higher expectations of all students have been hard-wired into educational policy. State standards and the federal No Child Left Behind Act provide the mayor with an achievement cudgel that earlier reformers lacked. (California actually abandoned its assessment program during part of the 1990s reforms.) LAUSD has adopted what is called an A though G requirement that would place all high-school students in courses that would give them the basic entrance requirement for public colleges, but it is behind schedule in implementing it. The fact that fewer than 15 percent of students complete a college-ready curriculum has become a political issue that is already rallying reformers and civil rights advocates.
All the reform projects tried to find some way of engaging parents in their children's education and in the operations of schools. Villaraigosa's plan endorses a new breed of community organizations such as the Boyle Heights Learning Collaborative and similar organizations in the Belmont High School area, South Central, and the San Fernando Valley. These seek to combine increased direct parental involvement in education—parent as a child's first educator—with increased advocacy that is pressuring the district for new construction and attention to both the A through G mandate and the achievement problems of English-language learners. Grass-roots pressure was key to bringing about a recent agreement for charterlike schools in what is called the Belmont Zone of Choice, a series of smaller schools that will gain wider autonomy over curriculum, staffing, and budget.
No one knows whether the mayor will be successful in hammering together political agreements that advance these four historic reform ideas. He may well, as others have predicted, tire of the battle and decide to pave potholes or fix LAX. But this much is known. Villaraigosa is not a one-trick pony whose education agenda will rise or fall depending on the court's view of last year's legislation. He has options at the ballot box, in the legislature, and with his considerable skill at bringing contending forces together.
The prize for success is huge. In Los Angeles, at the turn of the 20th century, a Progressive movement forged by businesspeople, philanthropists, and unionists created the school system that gained the reputation as one of the best in the country. At the start of the 21st, the city faces many similar problems: a changing economy, a population of immigrants, and institutions that do not perform as they should. The reformers of the last century transformed local and state government and provided the intellectual and policy foundation for the New Deal. The time is ripe for a new transformation.
Charles Taylor Kerchner is senior research professor at Claremont Graduate University. This research has been supported by a generous grant from the Annenberg Foundation.