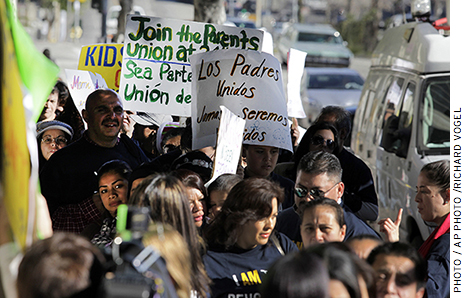 Championed by California-based Parent Revolution, and adopted first by California in early 2010, more than a half-dozen states now have parent trigger laws. The parent trigger, which allows a majority of parents at a low-performing school to vote to seize control from the local district, has been wielded at four California schools. Is the parent trigger a good idea? Can empowered families transform the system one school at a time? Making the case for the parent trigger is Ben Austin, executive director of Parent Revolution and former deputy mayor of Los Angeles. Questioning the merits of the trigger is Michael Petrilli, vice president for policy at the Thomas B. Fordham Foundation and an executive editor of Education Next.
• Empowered Families Can Transform the System, by Ben Austin
• There's a Better Way to Unlock Parent Power, by Michael J. Petrilli
This article appeared in the Summer 2013 issue of Education Next. Suggested citation format:
Austin, B., and Petrilli, M.J. (2013). Pulling the Parent Trigger. Education Next, 13(3), 50-56.