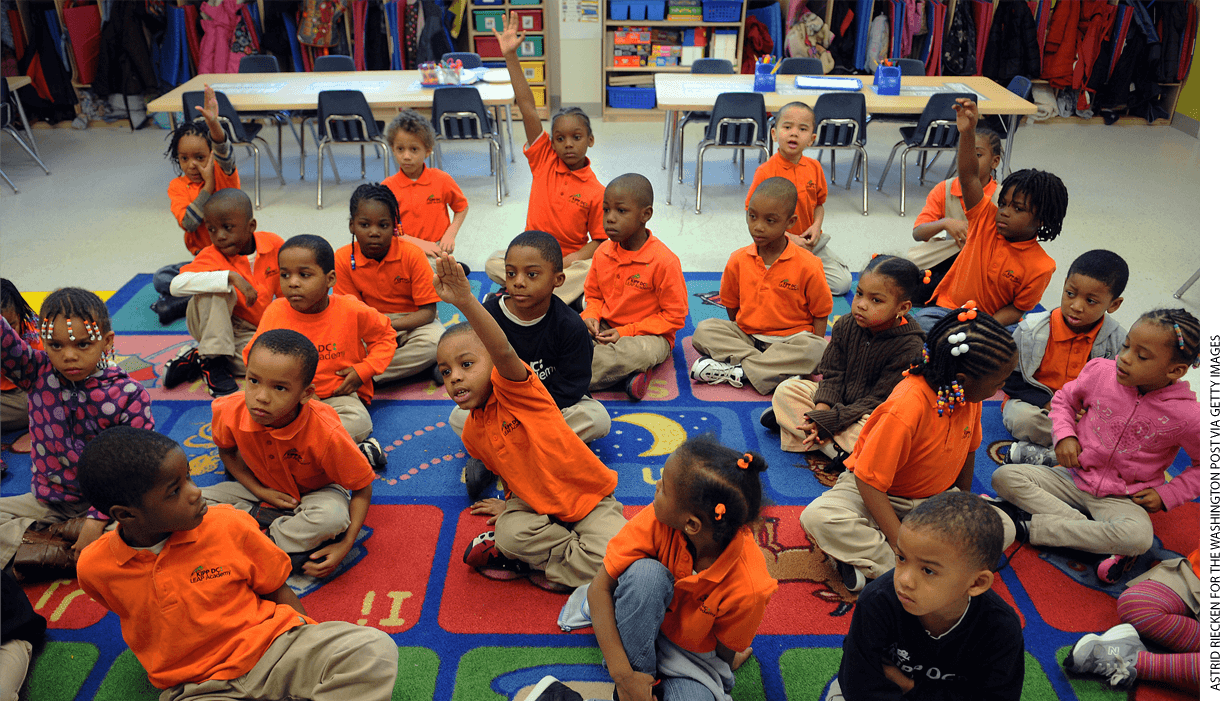 During the eight and a half years I recently spent leading the District of Columbia's Public Charter School Board, D.C.'s sole charter school authorizer, charters stabilized at serving just under half of the public school students in Washington, D.C. Our test results improved every year. Remarkably, these improvements were matched and sometimes recently exceeded by D.C. Public Schools. And enrollment in both charters and DCPS has grown. The result for the past several years has been exactly what many of us hope charter schools achieve—injecting competition and innovation into public schooling, lifting both sectors and, in the process, helping our city grow and prosper.
The clear improvements in our schools and obvious benefits it has brought have led to a somewhat more benign political environment than our movement colleagues face in other jurisdictions. But it's by no means political nirvana. Below I share five key takeaways about how we got where we are and what we've learned in the process.
1. Remove the Valid Reasons Some People Hate Charter Schools
This was job one for me when I became the D.C. authorizer in 2012. From my previous perch in the Obama administration's Department of Education I'd seen across the country how corrosive to public support has been charter scandals, underperformance, and behavior inconsistent with being a public school. So, we systematically tackled the big issues facing charter schools across the country.
We stepped up academic accountability, closing nearly one of every three charter schools for underperformance. Our schools used to cover the gamut from terrible to great. Now, the worst schools are average, and it goes up from there. Ten years of National Assessment of Educational Progress data showed D.C. charters improving faster than any other state or district in the country.
We ensured schools were open to all. D.C. charters have always served higher percentages of Black students than did DCPS—and served them better. But we went further. We aggressively policed school admissions policies and practices to ensure schools weren't shunting aside students with disabilities. We used data to highlight schools with high or disproportionate suspension and expulsion rates, leading suspensions to fall by half and expulsions by 80 percent. And we created with our city partners a common lottery for enrollment.
Finally, we stepped up our financial oversight, closing two large schools that were improperly enriching their founders.
We didn't go as far as some wanted, out of a respect for school autonomy and our belief in the power of competition. We didn't mandate backfilling, or require schools to replace students who left. We didn't ban suspensions or expulsions. And we never limited where schools could locate, even if it was right across the street from another school.
Did our efforts quiet all the naysayers? Of course not. But for the "sensible center," both in the general population and on our city council, the fact that charter schools were high quality, fiscally prudent, and truly serving as public schools kept folks supportive.
2. Remove the Existential Angst
In 2012 D.C. charters served 41% of pupils, up from 25% ten years earlier. With share growth of two to three percentage points each year it was simple to forecast that a generation hence DCPS would be reduced to a tiny remnant—or eliminated entirely. For some national charter school theorists, this was the goal, an extreme position in an active national debate about the "end state" of charter schools
In D.C., though, this possibility raised the political temperature tremendously.
It turned out most people in D.C. supported both charters and DCPS. Many families had children in both sectors. Many city elders were proud DCPS alumni. And, significantly, DCPS, under Michelle Rhee and Kaya Henderson's leadership, was turning around, embracing core ed reform principles. Few Washingtonians wanted to see DCPS cast into the dustbin of history. As long as this was the looming future, any decision we made about approving new schools or new school growth was seen through this apocalyptic lens.
So I, along with my board chair, penned an op-ed in the Washington Post arguing that "the balance we have, with a thriving public charter sector and strong traditional schools, is about right." We didn't impose caps to maintain this balance. But by closing low-performing schools, only letting high-performing schools grow, and approving only the strongest new applicants, we kept our market share below 50%.
Did this win over everyone? No. But it ensured that the mayor remained a strong charter supporter. It kept any discussion of limiting charter growth off the city council agenda. And it kept the average D.C. resident broadly comfortable with an education reform movement supportive of both sectors.
3. The Ecosystem is Important
Charter schools' advantages around nimbleness, flexibility and freedom from bureaucracy are often balanced by disadvantages of small scale. Small charters don't have a reading intervention program, or a teacher residency program, or a college access program. D.C.'s ecosystem has several flavors of each, along with active philanthropists, back office providers, diagnostic assessment coaches, leadership development programs, anti-racist fellowships, new school design incubators, board member recruiting and training, data analysis supports, turnaround specialists, Americorps volunteer providers, purchasing collaboratives, and innumerable communities of practices. Large foundations support developing new approaches to common problems, be they teacher recruiting and retention, technology deployment, or equity design thinking.
I came to believe that this thriving ecosystem was one of the keys to D.C. charter school success, and frequently encouraged philanthropists to focus not only on the schools but the entire ecosystem that supports them.
4. Context Matters
Charter schools – open to all – are, in many ways, more "public" than a system that segregates kids, either through geographic boundaries or exam requirements.
However, DCPS has a long and storied history of application schools. Among these were, for many decades until 1954, Dunbar High School, which features among the proudest legacies of D.C.'s history. Current magnet schools are aspired to by D.C. residents of all races. While I have heard many voices discuss how to make their application process fairer, I have heard almost none who support their dismantling.
More broadly, the D.C. context militates against charters and DCPS criticizing each other. Perhaps one of the keys to the success of modern education reform in D.C. is that reformers aren't just charter leaders. They start at the office of the mayor and extend to DCPS and charter leadership. I remember being in a room at one point with the deputy mayor for education, the state superintendent for education, and the chancellor of DCPS. All were Teach for America alumni except me. Many charter leaders used to be DCPS leaders, and many DCPS leaders used to be charter leaders.
The focus of education reformers in D.C. is to improve all schools for the benefit of D.C.'s residents, through all means necessary, including through magnet schools. None of us spend a lot of time bashing each other. Indeed, we find that most in D.C. prefer to see us getting along, perhaps on the theory that "when elephants fight the grass gets trampled." When scandal does hit one sector, most of the public assume both sectors are tarred by it.
Of course, we compete. But we also celebrate each other's successes. And we find ways to cooperate, whether it's through the common lottery we created together in 2014 or the virtual job fair we put on together this year amid the Covid-19 pandemic. That's the D.C. context that has worked for us so far.
5. Crossing the Chasm Isn't Enough
More than once I've heard a prominent national charter school supporter share this theory: that when a charter movement begins in a city it is too small for anyone to care about, and it thrives. By this theory, charters are at their most vulnerable when they are still too small to have real political clout but big enough to have awoken the ire of the education establishment that seeks to kill it. Charters need to somehow tough through this chasm to get to the point where they are educating so many children that their supportive families create a political bulwark that protects them.
If any city has "crossed the chasm", it is D.C. Forty-seven percent of our students attend charter schools. It's hard to walk through the Wilson Building, our City Hall, without running into dozens of workers–from security guards to agency directors–who are charter school parents.
In one sense, being on the other side of the chasm gives us some relief. There are no calls for eliminating our schools. Our funding levels are high and within 10 percent of DCPS's.
But the rise of white progressive politics in the city, in combination with a somewhat re-energized union movement, has left our schools fighting attacks on multiple fronts–and often losing. We lost last year when the City Council regulated suspensions and expulsions. And we lost this year when the City Council mandated open charter-school governing-board meetings. We know there is more waiting in the wings–limits to growth, teacher representatives on charter boards, efforts to control our spending and our curricula.
Why hasn't our 47 percent market share protected us?
Principally because, for most issues that chip away at our autonomies, our parent bodies aren't with us. Sure, if someone tries to close a school, or cut funding, everyone can get behind opposing that. But restricting suspensions, or mandating minutes of physical education, or specifying the organic content of school breakfast isn't something that the average charter school parent will turn out to protest. Even a moratorium on future growth isn't aggrieving to the typical charter school parent (or even school leader). After all, they already have a school.
Moreover, charter schools have done a pretty bad job of building their parent bodies or their teaching staff into a political force. Most leaders don't prioritize this. Many are wary of the unintended consequences of having an organized parent or student body. And more than a few have alienated their community through the "my way or the highway" attitude that some schools of choice exhibit. Indeed, it is notable that among our most active charter opponents are 20-somethings who graduated from a D.C. charter in the past decade.
Our opponents are getting savvier—finding "death by a thousand cuts" legislative proposals that won't be opposed by the average parent. D.C. charters have to get savvier too. That means finding ways to build parent support, even if it ultimately means ceding more voice, and even some control, to members of their community. Only when parents, teachers, and students feel a stake in the mission, and future, of their school, will our 47 percent really mean much politically.
Scott Pearson stepped down in May after eight and a half years as executive director of the District of Columbia Public Charter School Board. A version of this article originally appeared at CharterFolk.org.